Not quite every happening in Ohio basketball this season revolves around LeBron James. One of the great roundball stories unfolding this year is the C ...

We're back with the Buckeye Leaves after a little post-Rose Bowl revelry ... grab it while you can I always say. Before it's done we'll catch up on b ...
A new feature this year on the site, Jesse's "The Week That Was" column was a smash hit with our readers, as Mr. Lamovsky took a look back at the prev ...

What a way to start the new year from a football perspective here on the north coast. Ohio State manhandled a very good Oregon team in the Rose Bowl, ...
Jim Tressel and Terrelle Pryor each came into the 2010 Rose Bowl with something to prove to a doubting nation. By the time the Buckeyes wrapped up the ...

After winning six conference titles in nine seasons under Jim Tressel, the Ohio State Buckeyes finally arrive Friday at the destination that is suppos ...
Sad but true- Ohio State hasn't experienced a great deal of success in bowl games over the last twenty-five years. The Buckeyes are just 9-13 in the p ...
Part two of "Let's Go Bowling" takes us to the games of New Year's Day and beyond, including the BCS Championship Game and Ohio State's Rose Bowl batt ...
Hard to believe it's been a month since Michigan ... and since the entire last edition of the Leaves was devoted to football recruiting, there's a lot ...
Buckeye Leaves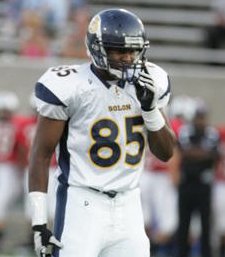 Recruiting 2010 - National Signing Day
Jim Tressel and OSU recruiting coordinator John Peterson finished off National Signing Day Wednesday just about the way they started it...with commitments from 18 football players... resulting in a
2010 recruiting class
in the top
15
or
16
or
20
or
26
in the country, depending on which experts you believe.
The signing day story for the Buckeyes this year was how a few big fish got away at the last moment...
(insert joke about Tressel finishing second here...)
but that's mostly because the media only pay attention to the last few days of a 365-day recruiting cycle. In the recruiting game, timing doesn't count for much...but the late-deciders do get more than their fair share of the publicity.
For example, if we had been waiting until today to hear from Ft. Wayne tailback
Rod Smith
, Florida wide receiver
James Louis
or Cincinnati Anderson offensive tackle
Andrew Norwell
...all among the top-rated players in the nation at their positions...OSU fans would be delighted at the good news. On the other side of the ball, if we were just getting word today that top cornerback
Christian Bryant
, all-state linebacker
Jamel Turner
and fast-rising defensive tackle
Jonathan Hankins
were joining the Scarlet and Gray, nobody would be bitching that Tressel can't close. But all those kids committed to Ohio State weeks or months ago.
Talk to me in 2014
It's beyond cliché to remind fans how history tells us that the guys with he most stars aren't necessarily the ones who work out...but I'll do it anyway. We'll fairly judge this group in four or five years...like we are able to do today with
the 2005 class
.
(Just one quick example...)
That group was littered with 4 and 5-star players...some that worked out pretty well (Denlinger, Worthington, Amos, Cordle, Hartline) others not so much (O'Neal, Lenix, Schoenhoft, Mo Wells). The point of my example here is that five guys from that class are in the NFL today, and four of them were mere 3-star recruits in 2005; Malcolm Jenkins, James Laurinaitis, Donald Washington and Brian Robiskie. (Hartline, a 4-star, is the fifth.)
The vaunted class of 2002 turned out great...but not because the two super blue-chip studs that year...Justin Zwick and Mike D'Andrea...ever contributed much of anything.
In other words, it's an art, not a science. And over the years, Tressel has been pretty good at mining talent where not everybody's looking. Other Tressel 3-stars...Hawk, Pittman, Youboty...it goes on. And with that, the obligatory "don't-take-the-ratings-seriously" segment blessedly ends.

The Bridesmaid....
Tressel did pull an oh-fer on signing day though, in his head-to-head battles for three quality offensive linemen. First, St. Xavier tackle
Matt James
opted for Notre Dame over the Buckeyes with a morning announcement on signing day. James had just returned from his official visit to South Bend last weekend, and may have seen a better chance for early playing time with the Irish. James never did say much, by all accounts, so I'm not sure we know a lot about his reasoning...though he was quick to say that OSU finished second.
(What exactly does "second" mean in a choice of college?)
Next up was
Morgan Moses
, originally a Virginia commit a year ago and another Fork Union Academy alumnus, who decided to honor his early ties to the Cavaliers. OSU was a solid runner-up.
Then later in the day, the nation's top offensive tackle, and the No. 1 overall player in the country in the eyes of many scouts, Minnesota product
Seantrel Henderson
committed to USC
, after he had seemed to be OSU's to lose in the closing weeks.
Maybe more fitting than the fishing analogy here is the wedding one. Jim Tressel and his Buckeyes representing the pretty, traditional, sensible girl...waiting at the church...with her dad...ready to live happily ever after...And then at the last minute Seantrel Henderson leaves her at the altar and runs off with the hot blond chick (read: Lane Kiffin) to southern California. The whore. (Her...not him.)
One half-baked and only semi-serious theory of mine is that Tressel is easier to say no to than his counterparts at other schools. So many of these kids say the hardest part of the recruiting process is turning down the coaches they have grown close to over a period of months, or even years. If these young men know anything about Jim Tressel after all this time with him, it's that he'll be calm and composed and professional with them, even if they tell him what he doesn't want to hear. Or maybe they have, you know...
real reasons
to consider.
My other theory is that California sun, surf, beautiful women and La La land help sell the storied USC football tradition, and it would be hard for any 18-year old to turn that package down....even with the program in turmoil. Henderson's parents had decided to move from Minnesota along with their son, so their preferences had to weigh in the decision somewhere too.
And to be fair to the Henderson family and their difficult decision process, it's quite possible that they looked at the relative lack of Ohio State offensive linemen in the NFL. As good as the Buckeyes have been at grooming players for the pros in the last decade, their track record at producing NFL offensive linemen (Nick Mangold excepted) hasn't been all that great.
There is talk (as of Wednesday evening) that Henderson will not sign his letter of intent for USC immediately, because of the specter of possible NCAA sanctions on the Trojan program coming soon, choosing instead to delay signing for a few weeks to see how the looming penalties play out. Damn...it's as if Henderson is yelling back over his shoulder to the sensible girl...still at the altar...that he thinks he might still love her best. Don't get hopes up.
One or two other intriguing
possibilities
also went elsewhere in recent days...but that's enough about the guys who didn't want to be Buckeyes. The upshot of losing out on James and Henderson is that the 2010 class now contains just one offensive lineman, leaving the Buckeyes a bit thin there, and putting some pressure on them to get numbers as well as quality in that unit a year from now. Rather than use the two scholarships on lesser talents for 2010, the coaching staff has decided to bide their time...and at least for one year, they have enough depth in their O-line group to get away with it.
In it at the End
And as for Tressel as 'closer', you could choose to forget about his high-profile successes like Terrelle Pryor, and subscribe to the "always the bridesmaid...never the bride" school of thought. Some folks prefer the "never up...never in" way of looking at it, which recognizes that...as in poker...in order to win, you have to still be in the game at the end. Say what you will about JT finishing second...at least he was at the table when the showdown hand was dealt.
This year Tressel put OSU in position to land the No. 1 recruit in the country at cornerback (LaMarcus Joyner) defensive tackle (Sharrif Floyd) outside linebacker (Jordan Hicks) and offensive tackle (Henderson). For what it's worth (and as we discussed earlier...it's really worth zip,
practically
...) all four of those kids would tell you today that Ohio State was their second choice. For the image of the OSU program, that's got to mean
something
. (As for why he went 0 for 4...see half-baked theory above)
---
Who's Coming to OSU
This class
looks strongest at wide receiver and defensive back, with the incoming groups at linebacker, defensive line and running back not far behind. Ohio State signed just one quarterback this year, one kicker, no tight ends, and as mentioned above, just one offensive lineman. They took nine Ohio players and nine out-of-staters. Scout has photos and capsules (along with video of some) of all 18 OSU recruits
here
.
---
Offense
: (8)
Receivers
: (3)
This group is headlined by out-of-state recruits
James Louis
, from Delray Beach, FL and
Corey Brown
from Springfield, PA. Louis had offers from all over the SEC, but stood firm with his relatively early OSU commitment, and has already been compared to Santonio Holmes by his new position coach in Columbus. His videos show great quickness and acceleration that complement his 4.4 speed and a reported 38-inch vertical leap.
Brown (the second Corey Brown from PA to join OSU in as many years) was rated the No. 8 Athlete in the nation by Rivals. He has good size (6' 0", 186) and enough speed (4.47) to stretch the field. I can see the possibility of either Brown or Louis contributing right away on special teams, particularly on kickoff returns.
The third receiver in the 2010 class is
Tyrone Williams
, from (E. Cleveland) Shaw, a tall, long-strider who is likely to redshirt so the OSU weight program can put some muscle on his 6' 7" frame. I've seen his weight listed anywhere from 185 to 215 lbs, but whatever it actually is, he's skinny and raw right now. What they call a "high ceiling" recruit, but one that's probably at least a year away from helping the Bucks on the field.
Running backs
: (2)
Watching the highlight films of
Rod Smith
had me thinking of a cross between Robert Smith and Eddie George. He's bigger (6' 3", 220) than Smith was as freshman, but he's got a similar upright running style, but with more power...which is where the George comparison takes over. This
article from the Ft. Wayne paper
recaps his impressive numbers and accomplishments as a three-sport star in high school, but it's enough to say that Rivals rated him the No. 6 running back in the country, and Scout had him at No. 8. He's behind some talented backs in the OSU backfield next year, but the cream rises. Some low quality video...but impressive highlights
here
.
Some of that backfield depth in Columbus in 2010 will be provided by
Carlos Hyde
, who was originally among OSU's 2009 signees, but needed to spend a year at Fork Union Academy getting his academics in order. He is already enrolled at OSU, and will be eligible for spring ball. The Naples, Florida native was rated the nation's No. 1 fullback last year, but OSU recruited him as a running back all along, and at 6' 1", 230, he'll fill a 'big back' role in Columbus. Hyde has good speed, and his quick feet and lateral mobility are above average for backs his size. As a senior at Fork Union, he rushed for 1653 yards and 16 TD's. There's some video at
this link
. Hyde first struck me as young Keith Byars type player...powerful, with quick feet and just enough speed. He may not be in Byars' league...few are, and anyway...for now he's about the seventh-string tailback for the Buckeyes.
Quarterback
: (1)
The Buckeyes have a 'legacy' pick coming in this year at quarterback.
Taylor Graham
, from Wheaton, Illinois, is the son of former Buckeye QB Kent Graham, who started for OSU in 1991 and played 11 NFL seasons. (If you're doing the math, Kent was already married while at OSU in '91) Taylor has made a name in his own right, despite being hampered by injuries in both his junior and senior seasons. He was rated the nation's No. 14 quarterback by Scout and by Rivals. Like his dad, Taylor has a very strong throwing arm, and at 6' 5", 225 lbs, he's got prototype QB size. OSU has their eyes on a couple of QB's in 2011, including The Next Big Thing,
Braxton Miller
, but they need someone to bridge the gap, and Graham has potential.
Offensive Linemen
: (1)
After the nation's No. 1 offensive tackle got away from them, OSU fans and coaches can take solace in having another of the best OT's in the country coming to Columbus.
Andrew Norwell
committed to OSU within days of signing day a year ago, and shared top billing with Jordan Hicks as the best players in the state of Ohio for 2010. He was ranked the No. 2 tackle in the country, with 5 stars, by Scout and No. 9 by Rivals. Norwell missed most of his senior season after he broke his leg in an early season game in September, but has had a complete recovery and isn't expected to be slowed down as an incoming freshman at OSU. It's the third year in a row that Tressel has been able to land offensive tackles ranked among the nation's best. In 2008, both Mike Adams and J.B. Shugarts were in everybody's top 10, and last year Marcus Hall was top five at OT.
Kicker
: (1)
Drew Basil
from Chillicothe comes on board with a chance to contribute as either punter or placekicker or both for OSU. He's a soccer player, and has kicked a 50-yard field goal, and punted for a 40-plus yard average in high school, so he should push Devin Barclay and/or Ben Buchanan for both jobs in 2010.
---
Defense
: (10)
Defensive Linemen
: (3)
The OSU coaches see
Darryl Baldwin
(6' 7", 265) the huge defensive end from Solon as a five-technique player that will play inside and outside, much like Cam Heyward does for OSU now. They love his overall athleticism for his size and his quickness in the pass rush. Baldwin has a lot to learn, but as they say, you can't teach size...and he's going to get bigger.
In Boardman's
J.T. Moore
, they're projecting a lineman more in the mold of Thad Gibson...a guy with power as well as good speed on the outside.
Moore
(6' 3", 230) comes to OSU as part of a package deal of sorts. His sister Darryce is also a Buckeye recruit for Jim Foster's Lady Buckeyes team this year, after a stellar basketball career at Boardman. J.T played hoops at Boardman too, and kept his weight down for that reason. He'll be trying to put it back on before he gets to Columbus.
Putting weight on has not been the problem for big defensive tackle
Johnathon Hankins
from Detroit Southeastern. Tressel has already dubbed the 6', 3", 310 lb. Hankins "Big Hank". The plan is to take some bad weight off him and put good weight back on with a strength and conditioning program, but the Buckeyes feel like they landed a keeper in Hankins. He was sort of a latecomer to the national recruiting scene, but down the stretch he was landing offers from all the big boys (Florida, Oklahoma, Michigan). On this one though, Tressel sealed the deal with a commitment in early January.
Linebackers
: (3)
David Durham
could just as well be in the defensive line group because the OSU coaching staff hasn't settled on his role yet. He may end up as a 240 lb. middle backer, or possibly a strong-side linebacker, but they also like his quick first step and pass rushing skills, and could see him succeeding as a defensive end as well, probably in the weakside (Leo) role.
Durham
(6' 3", 230) was all-state in wrestling during his early prep years in Texas, and it was his wrestling coach that got him interested in Ohio State.
Local favorite
Scott McVey
from St. Ignatius is a flat out gamer as a linebacker, and is another guy with a knack for rushing the passer. McVey (5' 11", 215) doesn't have all the measurables scouts look for, but he's an instinctive and smart player and a solid tackler, with the good mobility and coverage skills to make plays in space that college coaches are looking for in their linebacker recruits these days. Due to his size, some thought he might be projecting as a safety at OSU, but the coaches put a stop to that talk this week. He's a linebacker all the way.
Jamel Turner
was an all-state player at Youngstown Ursuline as junior, but ran into discipline and academic problems, and transferred to Fork Union Academy for his senior year, where he played with fellow-Buckeye recruit Carlos Hyde last season. A year at Fork Union did a world of good for Eddie George not too long ago, and that worked out pretty well for Ohio State. Now Turner seems to have done some maturing there too.
Turner
projects as an outside linebacker at OSU, because at 6' 2", 210 lbs, he's too small at this stage to play defensive end, where he spent time as a high school player. He has great speed and lateral quickness, excellent coverage skills and a tough, physical playing style.
It wouldn't be a surprise to see any or all of these three young backers contributing on special teams for the Bucks in 2010.
Defensive Backs
: (4)
The OSU staff finished strong at the cornerback position, getting January commitments from Glenville's
Christian Bryant
, the nation's No. 8 cornerback, and
Bradley Roby
from Suwanee, Georgia, an athlete who's still learning the position, but turning a lot of heads in the process.
Bryant
(5' 10", 185) has been near the top of the CB rankings all year, and his eventual signing with OSU was long assumed in Columbus. Coaches love his hips, his range, his ball skills and his mean streak. Bryant is a hitter, even though he lacks the size preferred by the Tressel regime in their cornerbacks. He's coming in behind at least four or five cornerbacks at OSU, but he may be heard from sooner than you think.
Roby
committed early to Vanderbilt, but when he opened up his recruitment, a lot of the big boys jumped into the fight to sign him. He represents another Tressel win against the likes of Alabama and Georgia, both of which offered Roby in the recruiting season's final weeks. His size (6' 1", 180) and his overall agility and athleticism started getting the attention of the top schools once they got a look at him on the defensive side of the ball. Roby had played mostly wide receiver in high school, and just started playing corner as a senior. Going to the same school as OSU's Cam Heyward helped to swing him to the Buckeyes.
---
After three years of solid, but slightly undersized safeties for OSU, the coaches are going big. The 2010 starters look to be Jermale Hines and Orhian Johnson, already a big step up to physically larger players from three-year starters Russell and Coleman. Now the 2010 class is adding more size and superior athleticism in their two new safety signees.
Chad Hagan
comes out of Pennsylvania relatively unheralded on the national recruiting scene, but OSU coaches liked the combination of speed (a reported 4.29??) and size (6' 2", 210) that they saw in this versatile, multi-sport athlete.
Hagan's
senior year got started late after doctors discovered an irregular heartbeat that would elevate to dangerously high levels after physical activity. An operation in June may have saved his life, and he is said to be full go for the 2010 season. Hagan has a real opportunity to make it into the two-deep by 2011 if all goes well for him physically.
Rounding out the DB group this year is
Verlon Reed
, from Columbus Marion-Franklin.
Reed
(6' 2", 190, 4.45) still has aspirations to play quarterback, his first love, and OSU coaches haven't ruled out giving him an opportunity to get under center, but he probably projects as a safety long term. Reed is the first Columbus city school player to sign with OSU in six years. He put up impressive numbers his senior year as a dual-threat QB, totaling over 2800 yards, including over 1500 passing yards, with 18 TD passes...and another 1300 yards on the ground, with 18 more TD's...and that was before the playoffs started. The coaches love his leadership traits and work ethic.
---
Bottom line for OSU and Tressel this year was the combination of a somewhat down year for talent in Ohio and an unfortunate string of setbacks in the quest to land the bluest of blue-chip national recruits coming down the stretch. Another factor is the ridiculously deep talent level in Columbus these days. Solid Ohio talents like Matt James and Spencer Ware had to be considering the logjam of players ahead of them at OSU, and decided to go where they could potentially see the field sooner. Hard to blame that on the Ohio State coaches.
By all accounts, 2011 looks like a banner year for Ohio talent, and the Buckeyes already have the two best defensive linemen in the state
in the fold
.
As for the verdict on the class of 2010....see this space in 2014.
Till next time, gang....Go Bucks!
---
Links:
College Football Insiders capsules of OSU signees
Marcus Hartman notes from Tressel presser
Adam Rittenberg at ESPN.com