With winter imposing its snowy will on the North Coast over the weekend and now knee deep into 14 hours of Super Bowl pre-game coverage, time to bring ...

The game was as dramatic as a Game Seven should be. With rookie phenom Jaret Wright shutting down Florida's offense, the Indians crept ahead 2-0 in th ...
Tony's countdown of his Top 50 prospects in the Indians farm system marches forward today as Tony profiles his second batch of players, #45-#41 in his ...

It's Sunday morning, which means it's Lazy Sunday time here on the site with Paulie Cousineau. In today's piece, Paul is all over the board as more I ...
It's that time once again Tribe fans. For Tony Lastoria's countdown of the top prospects in the Cleveland Indians organization. Tony will be countin ...

As 50 degree weather inexplicably makes its way to the North Coast on a January morning as we get ready for the NFL conference championship games, let ...
Since the only pertinent topics of conversation on the corner of Carnegie and Ontario these days consist of the traits a back-up catcher brings to the ...
Thanks to a series of trades over the course of the last two years, Indians GM Mark Shapiro has restocked the Tribe's farm system to the point where i ...
This past Monday, the Indians made a trade, sending 22-year old third base prospect Jesus Brito to the Pirates for 27-year old infielder Brian Bixler. ...
Ten Little Indians - Part I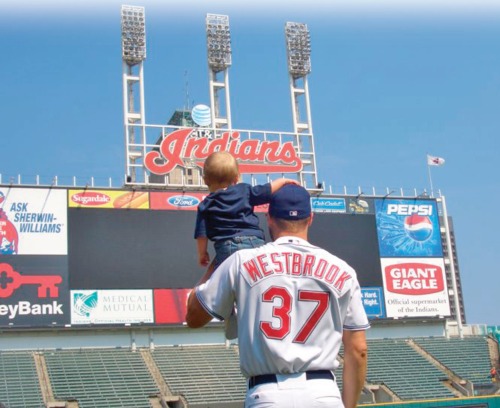 After a brief respite from the "Forward Thinking" series (OK, 2 ½ months), with pitchers and catchers set to report February 22nd, perhaps now would be a good time to delve back into specific portions of the 2010 Indians' team. Interestingly, when this whole "Forward Thinking" series began some time ago, the idea was that it would set up the off-season and in turn, the 2010 season. However, since very little has changed since last November to today, the pieces on the Infield and the Outfield still ring pretty true. Sure, there's been the trade of Shoppach and the addition of Redmond and (less notably) some flotsam and jetsam for the middle of the infield and 1B/LF, but where we sit today is not much of a different place than where we sat more than a few months ago.

Not that the inactivity is necessarily a surprising development (as even Anthony Castrovince asserts in his most recent "Indians' Inbox" that "anybody surprised by the inactivity this offseason clearly wasn't paying attention to what was going on at the Trade Deadline last year"), it's just that the expectations for what the team would look like in 2010 that were held in mid-October and early November of last year are pretty much in line with where the expectations are into February.

With that in mind and with expectations for the Indians' season coming in from both sides of the ledger, next on the docket is the starting rotation, unquestionably the linchpin for the 2010 campaign and the reason that most are predicting a "transitional year" (to be charitable) for the club that occupies the confines at the corner of Carnegie and Ontario. Given that it's foolhardy to attempt to continue a "series" after such a delay, we'll start up on a new "series" (or sub-series if that fits better) on the starting rotation.

Thus, since the starting rotation is wild card in the 2010 deck of cards, I thought it would be best to break this up into a couple of parts, with each part identifying and delving into a group of pitchers that should be a factor in the 2010 season. Overall, it looks to me like there will be 10 pitchers (Westbrook, Carmona, Masterson, Huff, Laffey, Sowers, Talbot, Ambriz, Rondon, and Carrasco) that make up those groups and while each will be analyzed thoroughly, it's important to note at the beginning of the series that the coming season could represent a tremendous opportunity for the team to legitimately use the innings thrown by starting pitchers to answer questions about each individual pitcher that figures into the long-term viability of the Tribe rotation going forward. That is, with 2010 representing a "transitional year", the Indians have the chance to give the ball every 5th day to a number of options who could be a cog in the rotations when the Indians have legitimate hopes for contending in the AL Central.

However, since those days of contention look to be (optimistically) a year away, we'll start off the series with a look at the three pitchers who, by most accounts, are assured of spots in the 2010 rotation coming out of Goodyear are, in no particular order:

Jake Westbrook
Fausto Carmona
Justin Masterson

At the "top" (termed used loosely for the presumed Opening Day Starter) the Indians will attempt to get more bang for their investment buck as they've only seen 34 23/ innings pitched for the $20M that they've paid Jake Westbrook over the last two years...read that again and try to keep your lunch down. That being said, the "bang for their buck" could very well be flipping him for a prospect in July as a best-case scenario if he proves to be healthy and effective into July. One would think that the Indians are hoping that the Jake Westbrook from 2004 to 2007 - the one that posted a line of 4.07 ERA, 107 ERA+, 1.34 WHIP, 2.6 BB/9, 5.0 K/9, 1.93 K/BB over 121 starts - is going to magically reappear in the desert air of Arizona to at least have something to show for their otherwise bottomed-out investment.

Are the numbers that he posted over that 4-year stretch from 2004 to 2007 those that you'd like to see at the top of any MLB rotation?

Certainly not as Westbrook's best suited as a middle-of-the-rotation innings eater (or at least a middle-of-the-rotation presence given his absence over the last two years) and for the Indians, the best-case scenario that would emerge over the course of 2010 would be Westbrook being healthy and effective enough for the team to turn him into something of value in July...even if that something of value is a AA ballplayer as that AA ballplayer has a much better chance of contributing to the Indians past 2010 than Westbrook does. And right now, that's where the focus is (or at least should be) - past this year. Past this year, the plans don't include Westbrook and, assuming health and effectiveness, the team should be looking to move him in July with the hopes that a solid first half of the season would present more than just a Mitch Talbot...er, a salary dump.

As for the other veteran sinkerballer that figures into the mix, the Curious Case of Fausto Carmona is a long and fruitless journey into the depths of what can make a pitcher so good for a period of time (215 IP in 2007) and equally as bad for nearly the same length of time (245 IP since 2007). If we're dealing in recent history and attempting to distance ourselves from the past two years, realize that Carmona ranks tied for last among starters with at least 245 innings pitched over the last two seasons among all of MLB (cumulative ERA+ of 72), worse than even Livan Hernandez.

Yeah...he's been that bad.

And, as if on cue, here's the rub - Fausto Carmona could be...wait for it...the key to the Indians' 2010 season. Seeing as how I've said this the past two years, with the performance of Carmona mirroring how the team finished, is it any surprise that any hope that the Indians may have of contention (which shouldn't be much) rest in the right arm of Carmona...again?

It's not worth rehashing where Carmona sits today after two lost seasons since Dana DeMuth squeezed him in Game 6 of the 2007 ALCS, as he's now posted a 5.89 ERA and a 1.70 WHIP in the 246 innings he's thrown in 2008 and 2009, walking more batters (140) than he's struck out (137) in those 46 starts. However, the disappearance of Fausto v.2007 played as much of a role as any for the reason that the Indians found themselves as sellers in the 2008 and 2009 season and as a reason for the "Rebuild/Reload/Whatever" currently underway as Carmona v.2007 on either of the last two incarnations of the Indians changes this franchise's direction drastically in terms of competitiveness and not having to worry about the impending departures of CC and CP Lee.

Alas, a return to Fausto v.2007 is a dream these days and the hope that he learns to fly once again under the watchful eye of a new manager and a new coaching staff is just that - hope. Maybe Carmona can pull everything together once more and recapture his past glory, but the odds are that we're going to find out with him getting the ball every 5th day in 2010. Since he's owed $4.9M this year and guaranteed $6.1M next year with his final option used last year. If he can find that hangover-inducing effectiveness once again, let's not forget that the team holds club options on Carmona in 2012 for $7M, in 2013 for $9M, and in 2014 for $12M. None of that money is guaranteed, but if Carmona can return to a form that is a modest facsimile of his 2007 self, those options could turn into legitimate options instead of simple reminders of what Carmona once was and what most thought that he would be.

As for what another sinkerballer could be in the starting rotation, 2010 represents the first year that Justin Masterson will be given an opportunity to show that he's more than the reliever that he has been to date in MLB. At this point, everyone knows his split disparity in MLB (.583 OPS vs. RH/.843 OPS vs. LH) which has mainly come out of the bullpen. Going a little deeper than that however, it can be noted that when Masterson was in the Red Sox farm system, out of his 256 2/3 career MiLB innings, he threw 220 1/3 IP as a starter. His MiLB splits (which can be taken with a grain of salt) show the same disparity as seen in his MLB splits, but not nearly as pronounced:

Masterson MiLB vs. RH

2.83 ERA, 1.02 WHIP, 2.15 BB/9, 7.85 K/9

Masterson MiLB vs. LH

3.77 ERA, 1.30 WHIP, 2.21 BB/9, 5.73 K/9

Certainly he's been better against RH hitters at all levels, but how he adjusts to thriving against LH hitters in MLB will ultimately determine whether he stays in the rotation or whether he eventually slots back into the 8th or 9th innings. While none of that is breaking any new ground, it is worth noting how Masterson has fared as a starter in MLB over 143 2/3 innings and 25 starts:
4.32 ERA, 1.44 WHIP, .735 OPS against, 1.53 K/BB

That may not light up anyone's life, but for a soon-to-be-25-year-old pitcher still adjusting to MLB and to starting, that's effective enough to merit a longer look in the rotation to see if it represents the spot that he provides the most value to the team. If there's ever a year to figure out if Masterson projects as even a middle-of-the-rotation starter, 2010 is a pretty good time to start and his performance over the final 8 games of the 2009 season, when he was strictly starting and was no longer on a pitch count should provide a baseline of performance (4.21 ERA, 1.53 WHIP, .739 OPS against) to come up with expectations for 2010. The six games he started in Boston (4.58 ERA, 1.44 WHIP, .778 OPS against) prior to the trade look similar to what he did done the stretch for the Tribe.

The control issues are definitely there for Masterson, who walked 35 batters in 57 1/3 innings after his trade to Cleveland, including 27 in the aforementioned 8 final starts (throwing 47 innings in those 8 starts) for the Indians, so the key for Masterson to be successful is obviously tied to his ability to limit walks. Whether he is refine a three-pitch mix beyond his sinking fastball and his slider (and he threw those 2 pitches 97% of the time in 2009) will go a long way in determining whether he is long for the rotation or 2010 will just represent a brief experiment to see if the Indians can utilize Masterson in a more valuable role going forward for the organization.

What's the best role for Masterson on this team going forward?

It's far too early to say, but I think they're going to give Masterson a pretty long leash in the rotation as they know that he can thrive in the bullpen but that he's more valuable going 6-7 innings (hopefully) every 5 games instead of going an inning every couple of nights. If he shows that he's a reliever out of place starting games, then you make the transition back to the 8th or 9th inning, but with as much uncertainty as to who's going to be starting games for this team for the next couple of years, I don't have a problem giving Masterson a year to show he can do it.

Obviously the "sure things" for the Indians rotation coming out of Spring Training are far from "sure things", but just you wait...those are the three out of the ten pitchers that likely figure into the 2010 rotation who have an MLB track record.

The question marks past these three only get bigger...