Jim Tressel and Terrelle Pryor each came into the 2010 Rose Bowl with something to prove to a doubting nation. By the time the Buckeyes wrapped up the ...
After winning six conference titles in nine seasons under Jim Tressel, the Ohio State Buckeyes finally arrive Friday at the destination that is suppos ...

Sad but true- Ohio State hasn't experienced a great deal of success in bowl games over the last twenty-five years. The Buckeyes are just 9-13 in the p ...

Hard to believe it's been a month since Michigan ... and since the entire last edition of the Leaves was devoted to football recruiting, there's a lot ...
Once again its bowl season, the time of year in which college football entertains us with a variety of games, some eagerly anticipated... others not s ...

Along with Dan Wismar, he's been Johnny on the Spot for us on the Buckeye football and college football beat this season. And with the regular season ...
With a 10-2 regular season and the Big Ten title in the bag, and the Rose Bowl still a few weeks out, it's an opportune time to catch up with Coach Tr ...
Ohio State's 21-10 victory over Michigan in Ann Arbor was routine in a way long-time Buckeye fans could have never dreamed of in the bad old days of t ...
The state of Ohio and that state up north went to war this weekend. Leg one, the much more important leg, went to the good guys ... when the Buckeyes ...
Let's Go Bowling, Part II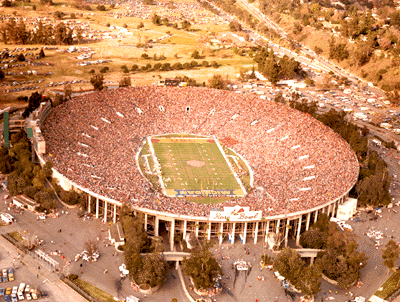 Part two of "Let's Go Bowling" takes us to the games of New Year's Day and beyond, including the BCS Championship Game and Ohio State's Rose Bowl battle with Oregon. I usually don't get into the prediction game with the Buckeyes- I leave that to my esteemed colleague Dan Wismar- but for one time only, I'm taking off my dress, manning up and picking a winner.
Let's Go Bowling, Part I
Friday, January 1
Outback Bowl: Northwestern (8-4) vs. Auburn (7-5), 11:00 AM, ESPN
Gene Chizek disarmed critics by getting the Tigers off to a 5-0 start before the rigors of the SEC cooled his team off. Northwestern had another solid season under Pat Fitzgerald and is seeking its first bowl win since 1949. Quarterback Mike Kafka could have a big game against Auburn's mediocre defense, but Chris Todd, Ben Tate, Darvin Adams and the rest of the explosive Tiger attack will be too much for the Wildcats.
Prediction: Auburn 38, Northwestern 24
Capitol One Bowl: Penn State (10-2) vs. LSU (9-3), 1:00 PM, ABC
Meeting for the first time since the 1974 Orange Bowl, the Lions and Tigers will have an opportunity to get a win against a premier opponent- something neither did during the season. Both teams fattened up on weak competition and folded against the big boys in seasons tinged with underachievement. LSU was 88th in the nation in sacks, which is good news for a Penn State offensive line that struggled mightily against teams with good pass rushers. Given time to throw, Darryl Clark will do just enough to finally come through in a spotlight game.
Prediction: Penn State 20, LSU 17
Gator Bowl: West Virginia (9-3) vs. Florida State (6-6), 1:00 PM, CBS
Bobby Bowden's career goes full circle, as he coaches his final game against the team he led from 1970-75. His current team was wildly inconsistent, especially on offense. The Seminoles scored just 19 points against FCS member Jacksonville State, lit up BYU for 54 the following week, and followed that outburst with seven points in a home loss to South Florida. West Virginia rode Noel Devine (1,297 yards) to a solid season enhanced by an upset of Pittsburgh in late November. Florida State won't have Christian Ponder, kayoed with a shoulder injury in his team's loss to Clemson, but the emotion of Bowden's departure will carry them to the upset.
Prediction: Florida State 26, West Virginia 21
Rose Bowl: Ohio State (10-2) vs. Oregon (10-2), 4:30 PM, ABC
The Buckeyes are off to Pasadena for the first time in thirteen years. It hasn't been that long since they won a spotlight non-conference game- it only seems that way. Starting with the Disaster in the Desert against Florida, Jim Tressel's troops have dropped five straight against elite out-of-conference opponents, including an 18-15 loss in Columbus to a USC team that Oregon manhandled on Halloween night. After an unexpected run to the Pac-10 title the Ducks are playing with house money- but Ohio State has to win this game to scotch a rapidly growing reputation as a team that beats up on weak Big Ten competition and folds against the big boys from other leagues.
In order to win the Buckeyes will have to do one thing first and foremost- control Oregon's running game. The Ducks were sixth in the nation in rushing offense and roll into Pasadena with a three-headed ground-eating monster. Quarterback Jeremiah Masoli augmented his 2,066-yard passing performance with 759 rushing yards and 12 touchdowns. Frosh sensation LaMichael James set a Pac-10 record with 1,476 yards, scored 14 touchdowns, and played his best in the biggest games, with 152 yards in the season-defining win over Utah, 183 in the massacre of USC and 166 in the Rose Bowl-clinching win over Oregon State. Finally, 240-pound tailback LeGarrette Blount, who topped 1,000 yards in 2008, is back in uniform after missing most of the season with a suspension.
For Ohio State's defense, the key player will be the tackles- Dexter Larimore, Doug Worthington, John Simon and, when he lines up inside, Cam Heyward. Unlike most read-option attacks, which key off the ends, Oregon's keys off the interior of the defensive line. If Ohio State's tackles penetrate quickly and get to Masoli before he makes his reads, it'll go a long way toward disrupting the rhythm of Oregon's attack. As a unit, the Buckeye defense absolutely has to tackle well. The Ducks thrive off big plays created by missed and broken tackles. Tackle soundly, take away the big play, make Oregon drive the field, and that will create more chances for Masoli and Company to make ball-handling mistakes, their Achilles heel. The Ducks lost fifteen fumbles during the season, second most in the nation.
Oregon's offense against Ohio State's defense is strength on strength. Ohio State's offense against Oregon's defense is weakness on weakness. The Buckeyes are 71st in the nation in total offense; 106th in passing. Oregon's defense is a passable 32nd overall but was torched late in the season by Stanford and Oregon State. Ohio State's rushing game got into gear down the stretch, topping 200 yards in each of the last five games. The Buckeyes will have to run well for two reasons: to keep the Oregon offense off the field, and to keep Terrelle Pryor out of bad down-and-distance situations. Pryor hasn't shown the ability to win a game with his arm, and this isn't the time to find out if he can.
Finally there are the special teams, which tilt decisively in Oregon's favor. Morgan Flint nailed all 52 of his extra-point attempts and 15 of 17 field-goal attempts, and while punter Jackson Rice's 40.3 yard net average is mediocre, it is still superior to Jon Thoma's anemic 37.6. Oregon also has one of the top kick-return units in the nation. Ohio State is down to its backup kicker, Devin Barclay, who hit a shaky 4-of-7 after taking over from the injured Aaron Pettrey. The Buckeyes also rank behind the Ducks in both areas of the return game.
This game is a tough call. Ohio State hasn't seen an offense the caliber of Oregon's, while Oregon hasn't seen a defense the caliber of Ohio State's. The Pac-10 has generally gotten the better of the Rose Bowl for years, but Oregon is a different and lesser team away from the ferocious environment of Autzen Stadium. Ohio State has more big-game experience than Oregon, but most of that experience is of the negative variety. All things being equal, though, I'm going to be a homer and pick the Buckeyes to get off the BCS schneid.
Prediction: Ohio State 26, Oregon 24
Sugar Bowl: Cincinnati (12-0) vs. Florida (12-1), 8:30 PM, FOX
The Bearcats won't have departing Coach Brian Kelly for this game, and that's bad news against a Florida team that should arrive in New Orleans in a foul frame of mind after losing its National Championship shot in the SEC title loss to Alabama. Cincinnati's high-powered offense has covered for a young, vulnerable defense all season- but that won't happen against Tim Tebow and the Gators. God's Quarterback is going to put up a number on the Bearcats.
Prediction: Florida 41, Cincinnati 16
Saturday, January 2
International Bowl: South Florida (7-5) vs. Northern Illinois (7-5), 12:00 PM, ESPN2
It was a typical year for USF- a 5-0 start and a place in the rankings, followed by a late-season fold. Northern Illinois had its own late swoon, dropping road games against MAC division champs Ohio and Central Michigan to end the season. The Huskies were opportunistic, with a +8 turnover ration, but they were only 79th in the nation in total offense and will have a hard time dealing with South Florida end George Selvie. Go with the Bulls in a game that will be only slightly more entertaining than an episode of "Trailer Park Boys."
Prediction: South Florida 24, Northern Illinois 12
Papajohns.com Bowl: Connecticut (7-5) vs. South Carolina (7-5), 2:00 PM, ESPN
It was a season of unimaginable pain and unexpected triumph for Connecticut, which withstood the murder of Jasper Howard and a series of gut-wrenching losses to win its last three, including a shocker of Notre Dame in South Bend. South Carolina, as usual struggled late, losing four of five after a 5-1 start before thumping Clemson in the finale. The Gamecocks have finally found some stability at quarterback with Stephen Garcia (2,733 yards, 17 touchdowns, nine interceptions) and play excellent defense, especially against the pass. Connecticut should have the emotional edge going in, but South Carolina is simply a better team.
Prediction: South Carolina 24, Connecticut 20
Cotton Bowl: Oklahoma State (9-3) vs. Mississippi (8-4), 2:00 PM, FOX
The Rebels and Cowboys meet in a re-match of the 2004 Cotton Bowl after disappointing seasons. Both teams saw BCS hopes vanish early and both looked awful against their archrivals, with Ole Miss collapsing defensively in a loss to Mississippi State and Oklahoma State collapsing offensively in a loss to Oklahoma. The Cowboys were one of the toughest teams in the nation against the run and will need to be against Ole Miss's Dexter McCluster, who averaged 6.7 yards per carry. Jevan Snead had a poor year, throwing 17 interceptions, but won't have to be spectacular against an Oklahoma State team hampered by the early suspension of deep threat Dez Bryant.
Prediction: Ole Miss 28, Oklahoma State 20
Liberty Bowl: East Carolina (9-4) vs. Arkansas (7-5), 5:30 PM, ESPN
The Pirates very quietly won their second consecutive Conference USA championship, but their 110th-ranked passing defense will have major trouble dealing with Arkansas's Ryan Mallett, who threw for 3,422 yards and 29 touchdowns. The Razorbacks should bring a solid rooting contingent to Memphis, just across the Mississippi from the state of Arkansas, and history is on their side- the SEC has won three straight Liberty Bowls against C-USA competition.
Prediction: Arkansas 35, East Carolina 24
Alamo Bowl: Texas Tech (8-4) vs. Michigan State (6-6), 9:00 PM, ESPN
A sexy pick for a BCS bowl in the preseason- at least, my sexy pick- the Spartans struggled through a turbulent season marred by the suspension of eight players for their part in a brawl at a dormitory in November. MSU was awful against the pass, ranking 103rd nationally, and should be easy pickings for Texas Tech's air attack, which finished second only to Houston in total yardage. The Spartans haven't won a bowl game since 2001 and won't win this one.
Prediction: Texas Tech 42, Michigan State 24
Monday, January 4
Fiesta Bowl: Texas Christian (12-0) vs. Boise State (12-0), 8:00 PM, FOX
The Horned Frogs and Broncos meet again in a battle for non-BCS bragging rights. TCU took the first round, edging Boise in last season's Poinsettia Bowl, and is even better this year, with a prolific offense joining the nation's top-ranked defense. The Frogs peaked down the stretch, winning their final seven games by an average margin of more than 36 points. Boise cruised through a weak Western Athletic Conference schedule, but they haven't faced a defense this strong since, well, the last time they played TCU. Round two goes to the Frogs.
Prediction: TCU 31, Boise State 16
Tuesday, January 5
Orange Bowl: Georgia Tech (11-2) vs. Iowa (10-2), 8:00 PM, FOX
Georgia Tech rode the nation's second best ground attack to its first outright ACC title since 1990 and its first major bowl bid since 1967. The 'Jackets boast 1,346-yard rusher Jonathan Dwyer and 991-yard rushing quarterback Josh Nesbitt, and when they do pass they make it count- they're tops in the nation in yards-per-attempt by a wide margin. Iowa had a season of hair-raising escapes and came within an overtime period of the Rose Bowl. The Hawkeyes have the offensive line to dominate Georgia Tech up front, despite the presence of the brilliant Derrick Morgan. They'll also have more than a month to prepare for Paul Johnson's tricky option attack. Look for Iowa to control the ball, the clock, and Georgia Tech's offense, by keeping it on the sidelines.
Prediction: Iowa 27, Georgia Tech 23
Wednesday, January 6
GMAC Bowl: Central Michigan (11-2) vs. Troy (9-3), 7:00 PM, ESPN
Want to see great quarterback play? Look no further than this match-up between the champions of the Mid-American and Sun Belt Conferences. Troy's Levi Brown threw for 3,868 yards, more than anyone not named Case Keenum, while CMU's Dan LeFevour threw for 3,043 yards, ran for 702, accounted for 41 touchdowns with his arm and legs, and set an FBS career record with 148 combined scores passing, rushing and receiving. Playing in-state, Troy will have the home-field advantage, but Central Michigan performed better against tough competition, testing Arizona and knocking off Michigan State. LeFevour will lead the way in what could be a very entertaining appetizer before the next night's main course.
Prediction: Central Michigan 42, Troy 31
Thursday, January 7
BCS National Championship Game: Alabama (13-0) vs. Texas (13-0), 8:00 PM, ABC
Alabama's domination of Florida in the SEC Championship Game combined with Texas's survival of Nebraska in the Big 12 title game make the Longhorns the prohibitive underdogs in the battle for the crystal trophy. Texas's schedule wasn't as demanding as Alabama's- the Big 12 was way down this year and the best non-conference opponent was Central Florida. Alabama's neutral-site wins over Virginia Tech and Florida were far more impressive than any of Texas's wins. This game is practically being conceded to the Tide before it even begins.
But not so fast. Texas has a certified ace in the hole- senior quarterback Colt McCoy. The four-year starter is the biggest winner in NCAA history, with 44 victories since assuming the job in 2006. He is 3-0 in bowl games and comes armed with his favorite target, Jordan Shipley (106 catches, 1,363 yards, ten touchdowns.) Texas also has an outstanding defense. The Longhorns yielded only 3.8 yards per play, tied with TCU for the lowest mark in the nation. Their 37 sacks placed them among the elite, and their 24 interceptions were the most in the FBS. Texas is a little one-dimensional offensively, but this is a very good football team that will make life extremely difficult for Alabama, especially on defense.
Alabama's big offensive star is younger than McCoy, but no less distinguished. Heisman Trophy winner Mark Ingram tore up defenses for 1,542 yards and 15 touchdowns. He is abetted by an underrated supporting cast. Quarterback Greg McElroy threw only four interceptions, and while Julio Jones's numbers were down from his brilliant freshman season, he's still a talented and inviting target. How McElroy and Jones fare against the superb Texas secondary led by Earl Thomas (eight interceptions) will be one of the keys to this match-up.
Alabama's defense is just as imposing as Texas's. The Tide did everything well on that side of the ball- they were number-one in the nation in points-per-game allowed, second against the run (Texas was first), seventh against the pass, fifth in interceptions, and fifth in turnover margin at +14. Their front seven, anchored by nose tackle Terrence Cody and linebacker Rolando McClain, might be the best in college football and their secondary, led by cornerback Javier Arenas, is formidable as well. It's a good thing Texas doesn't run the ball, because if they did, they'd be out of luck against Alabama's defense.
Ultimately this game will come down to the trenches, as most games do. Here the Texas offense is at a distinct disadvantage. They were manhandled up front by Nebraska- no shame in that, but it doesn't bode well for this match-up against an Alabama front that is almost as strong as that of the Cornhuskers. Big 12 offensive lines have been whipped by SEC defensive lines in recent high-profile games between the conferences, and this game probably won't be an exception. With his ground attack stopped before it even starts, McCoy will have to be extraordinary to bring Texas the win, and that's too much to ask against the likes of McClain and Mount Cody. Alabama won't exactly roll up the yards against the Longhorn defense, but their more diverse offense should do just enough to get it done, and bring a National Championship back to Tuscaloosa for the first time since 1992.
Prediction: Alabama 21, Texas 14