Even though there has been an unreal number of fighters pull out of UFC 108, the show will still go on. Las Vegas and the MGM Grand will host to what ...

Last night in Memphis, Tennessee fight fans were given a show. The UFC was in town and one of the best fighters of all time made his case for the myth ...
Once a year a fight card comes along that flies under the radar. Tonight is that night says my cousin Scott, as the UFC is making its Tennessee debut ...

It really is Andre Ward's time. He is the new Super Middleweight champion and he put on one hell of a performance. UFC 106 was a bit of a letdown but ...
Two excellent events in one night is always a good thing in the fight business. One unreal star outshined them all last night. Manny Pacquiao is a fr ...

Saturday night ... a great night for fight fans. The fight of the year in boxing. Manny Pacquiao takes on Miguel Cotto. Two of the greatest fighter ...
Last night UFC 104 took place in Los Angeles and the main event has everybody talking. Too bad they are talking for the wrong reasons as there was a v ...
The Ultimate Fighting Championship returns to the Staples Center in Los Angeles tonight and has a very nice card in store for fight fans. UFC 104 has ...
What is being called one of the best events to take place in boxing in quite awhile, got off to a rather questionable start. Fight fans were treated t ...
Recap: UFC 108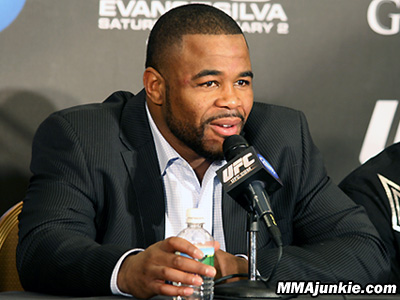 UFC 108 will probably always been known for the card that should have been. There was a ton of talent that was supposed to be on the card. Illness and injuries forced a lot of fighters to pull out of this event. A lot of outside observers were bad mouthing this fight card. Those nobodies forgot to tell all the guys that remained because they put on a great night of fights.
The main event between light heavyweight contenders Rashad Evans and Thiago Silva put the finishing touches on an already exciting night of back and forth fights.
Rashad Evans came out on top via unanimous decision in a fight he very easily could have lost. Evans dominated the first two rounds with takedowns and more aggressiveness. Silva had no way of stopping the shots by Evans and was on his back most of the first ten minutes. While in dominant position, Rashad was unable to inflict any significant damage.
The third round everything change and Silva landed some huge punches that rocked the former champion. Evans was close to being knocked out on his feet and Silva couldn't finish him off. With about two minutes remaining in the fight, Silva ran out of gas and for some unknown reason began to showboat. If he attacked instead of posing, he would have won by knockout because Rashad didn't know where he was. It was horrible judgment and it cost Silva the fight. It was one of the most unusual things I have seen in awhile. He deserved the loss for the way he performed in the final round.
The co-main event featured the striker versus the grappler. Heavy handed Paul Daley stepped in with ground wizard Dustin Hazelett . Every fight starts on the feet and Daley simply put Hazelett to sleep about two and a half minutes into the fight. Hazelett never attempted a takedown or landed any shots and Daley unloaded an assault on him. A picture perfect combination floored Dustin and Daley pounced in for the finish. The ref stopped the fight after three vicious shots. Paul Daley is legit and climbing the ladder fast.
Sam Stout versus Joe Lauzon was a matchup I was really looking forward to. I expected the overall game of Lauzon to get him the victory. Sam Stout however had different plans as he dominated Lauzon for the full fifteen minutes. A much improved stand up game and takedown defense was the difference for Stout. Lauzon appeared winded easily after being out of action for nearly a year. Stout was impressive and looked great. It was his best performance of what has been a nice career so far.
Full results:
Rashad Evans def. Thiago Silva via unanimous decision (29-28, 29-28, 29-28)
Paul Daley def. Dustin Hazelett via KO (punch) - Round 1, 2:24
Sam Stout def. Joe Lauzon via unanimous decision (30-26, 30-27, 30-27)
Jim Miller def. Duane "Bang" Ludwig via submission (armbar) - Round 1, 2:31
Junior Dos Santos def. Gilbert Yvel via TKO (strikes) - Round 1, 2:07
Martin Kampmann def. Jacob Volkmann via submission (guillotine choke) - Round 1, 4:03
Cole Miller def. Dan Lauzon via submission (kimura from inverted triangle) - Round 1, 3:05
Mark Munoz def. Ryan Jensen via submission (punches) - Round 1, 2:30
Jake Ellenberger def. Mike Pyle via TKO (punches) - Round 2, 0:22
Rafaello Oliveira def. John Gunderson via unanimous decision (30-27, 30-27, 30-27)
I feel sorry for the people who didn't tune into UFC 108 because of the talent that wasn't on the card. The fighters that did step into the octagon put on a very entertaining action packed night of fights for the fans. That's exactly what we've come to expect from The Ultimate Fighting Championship.