Even though there has been an unreal number of fighters pull out of UFC 108, the show will still go on. Las Vegas and the MGM Grand will host to what ...
Last night in Memphis, Tennessee fight fans were given a show. The UFC was in town and one of the best fighters of all time made his case for the myth ...

Once a year a fight card comes along that flies under the radar. Tonight is that night says my cousin Scott, as the UFC is making its Tennessee debut ...

Two excellent events in one night is always a good thing in the fight business. One unreal star outshined them all last night. Manny Pacquiao is a fr ...
Saturday night ... a great night for fight fans. The fight of the year in boxing. Manny Pacquiao takes on Miguel Cotto. Two of the greatest fighter ...

Last night UFC 104 took place in Los Angeles and the main event has everybody talking. Too bad they are talking for the wrong reasons as there was a v ...
The Ultimate Fighting Championship returns to the Staples Center in Los Angeles tonight and has a very nice card in store for fight fans. UFC 104 has ...
What is being called one of the best events to take place in boxing in quite awhile, got off to a rather questionable start. Fight fans were treated t ...
The opening round of the Super 6 World Boxing Classic starts tonight and fight fans everywhere are in for a treat. The Super 6 is a round robin style ...
Recap: Ward/Kessler & UFC 106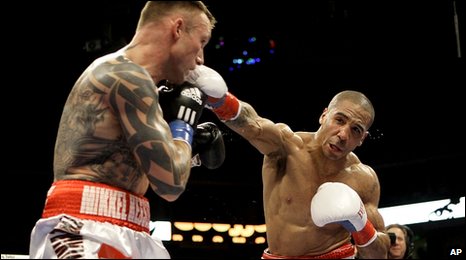 It really is Andre Ward's time. He is the new Super Middleweight champion and he put on one hell of a performance. UFC 106 was a bit of a letdown but Ward sure wasn't.
Last night in his hometown of Oakland, California, Andre Ward sent his fans home excited. He outworked and outboxed Mikkel Kessler on his way to a very easy decision victory. His record now is a perfect 21-0.
"S.O.G." was the bigger, faster, smarter, and hungrier boxer as he dominated Kessler from the opening bell. He landed more shots and his defense kept him out of harm's way the entire evening. The fight was stopped in the 11th round because of cuts on both of Kessler's eyes. The fight then went to the score card and the decision was announced. "The winner, and new......Super Middleweight champion of the world, Andre "S.O.G." Ward." What a great sound that was and Andre earned his win over a very tough fighter who I lost a ton of respect for after the fight.
In the bout the fighters clashed heads on a few occasions, accidental butts. After the fight, Kessler complained that Ward was holding him the entire fight, was elbowing him and that the head butts were intentional. He also called the ref a "hometown referee." Kessler was beaten down in every aspect of the fight. When fighters don't give the other guy credit, it's classless. The inactivity of Kessler over the last few years caught up to him and he simply lost to a much better fighter last night.
Andre Ward is legit ladies and gentlemen. There were a lot of people questioning Ward and his skills and also the way his career has progressed. I don't think there will be anymore questions as he beat up the so called favorite of the Super Six World Boxing Classic.
UFC 106 also took place last night and the main event to me was a letdown. Tito Ortiz lost to Forrest Griffin in their rematch and yet again had a ton of excuses why.
Forrest was the better fighter and did more damage. He was busier and landed solid leg kicks for three rounds. Tito Ortiz looked old and slow, and again looked like the sport of mixed martial arts has past him by.
Tito Ortiz came into the octagon with a black eye. After the fight he claimed he had a cracked skull. A cracked skull? Give me a break Tito, you are starting to embarrass yourself. He went on to say he had some slipped discs and was booed out of the octagon and rightfully so. Tito Ortiz is simply not that good of a fighter, and this is coming from a guy who has followed his career and considers himself a huge fan.
Josh Koscheck defeated Anthony Johnson is what was one of the better fights of the night. It was a huge win as Koscheck wants to get back to title contention. Beating a very solid fighter in Johnson will help his cause. The fight ended in the 2nd round via rear naked choke. This fight was delayed a few times from eye pokes at the hands of both guys.
Full fight card:
Forrest Griffin def. Tito Ortiz via split decision (28-29, 30-27, 29-28)
Josh Koscheck def. Anthony Johnson via submission (rear-naked choke) - Round 2, 4:27
Paulo Thiago def. Jacob Volkmann via unanimous decision (29-28, 30-27, 30-27)
Antonio Rogerio Nogueira def. Luiz Cane via TKO (punches) - Round 1, 1:56
Amir Sadollah def. Phil Baroni via unanimous decision (30-27, 30-27, 29-28)
Ben Saunders def. Marcus Davis via knockout (knees) - Round 1, 3:24
Kendall Grove def. Jake Rosholt via submission (triangle choke) - Round 1, 3:59
Brian Foster def. Brock Larson via TKO (strikes) - Round 2, 3:25
Caol Uno vs. Fabricio Camoes declared majority draw (29-27, 28-28, 28-28)
George Sotiropoulos def. Jason Dent via submission (armbar) - Round 2, 4:36
Two solid events took place last night but there was one true winner and his name is Andre Ward. If you don't anything about Ward yet, I advise you start to pay attention to him. His is an American superstar in the world of boxing. He is a great fighter, but an even better man. Andre Ward is something that boxing needs right now and he is more than willing to carry that torch.
"S.O.G."