Last night in Memphis, Tennessee fight fans were given a show. The UFC was in town and one of the best fighters of all time made his case for the myth ...

Once a year a fight card comes along that flies under the radar. Tonight is that night says my cousin Scott, as the UFC is making its Tennessee debut ...
It really is Andre Ward's time. He is the new Super Middleweight champion and he put on one hell of a performance. UFC 106 was a bit of a letdown but ...

Two excellent events in one night is always a good thing in the fight business. One unreal star outshined them all last night. Manny Pacquiao is a fr ...
Saturday night ... a great night for fight fans. The fight of the year in boxing. Manny Pacquiao takes on Miguel Cotto. Two of the greatest fighter ...

Last night UFC 104 took place in Los Angeles and the main event has everybody talking. Too bad they are talking for the wrong reasons as there was a v ...
The Ultimate Fighting Championship returns to the Staples Center in Los Angeles tonight and has a very nice card in store for fight fans. UFC 104 has ...
What is being called one of the best events to take place in boxing in quite awhile, got off to a rather questionable start. Fight fans were treated t ...
The opening round of the Super 6 World Boxing Classic starts tonight and fight fans everywhere are in for a treat. The Super 6 is a round robin style ...
Preview: UFC 108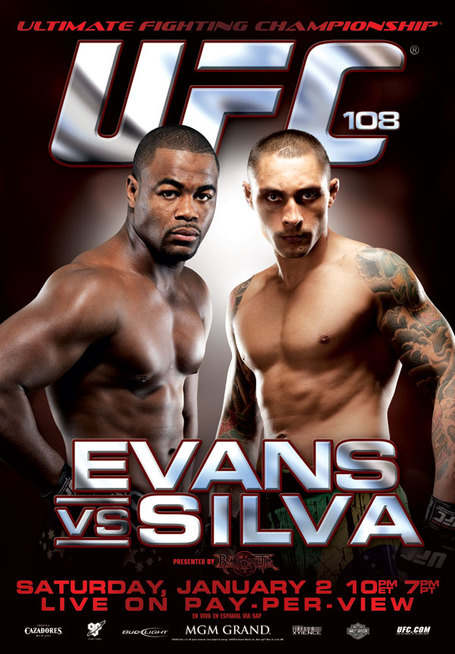 Even though there has been an unreal number of fighters pull out of UFC 108, the show will still go on. Las Vegas and the MGM Grand will host to what is being called the most cursed card in the history of the Ultimate Fighting Championship.
The main event was scheduled to be Brock Lesnar versus Shane Carwin. Lesnar became ill and hasn't trained since. Anderson Silva, Carlos Condit, Sean Sherk, and Tyson Griffin all at one point were scheduled to fight at UFC 108. Fight fans will not get to see any of those guys tonight. Many fans have said the only way they would buy the pay per view was if they got it at a discount. The UFC laughed at that idea.
The fight cards that lack a lot of star power or that people bash typically produces the best fights. There a few very nice matchups on this card and I expect another entertaining evening of mixed martial arts. Let's take a look at the highlights.
Rashad Evans vs Thiago Silva
While I have to agree this isn't worthy of a pay per view main event fight, I do really like both fighters. Two top ten guys in the light heavyweight division looking to crawl back into title contention. Evans and Silva both recently suffered knockout losses to current champ Lyoto Machida. Evans should have the advantage on the ground and the slight striking edge will go to Silva. I have a feeling that this one isn't going to the scorecards. I'm a huge Rashad fan but I like Silva to win via knockout and show the crowd his throat slash victory celebration.
Joe Lauzon vs Sam Stout
Fights at the lightweight limit of 155 pounds in my opinion are the best in the UFC. Lightning quick technically sound guys going toe to toe. That is what we have in this matchup of two crowd pleasing action packed fighters. Joe Lauzon is another guy who I will never miss when he fights. He has had a long nearly one year layoff but he is a gym rat. Stout hasn't fought in close to eight months. Both fighters are hungry to get back on the winning track. Lauzon is the more well rounded fighter and I look for him to get his hand raised.
Junior Dos Santos vs Gilbert Yvel
A true heavyweight clash here. Dos Santos is considered by many a legit title contender. Yvel is making his first trip into the octagon. If you want aggressiveness, then you will want to tune in and see Yvel fight. He has had many problems in the past with illegal tactics and getting DQ'ed. He even struck an officials years ago. When his head is on straight however, Yvel is a very tough fighter. This one has knockout of the night or fight of the night written all over it. I'm excited for this one.
Full fight card:
Rashad Evans vs. Thiago Silva
Paul Daley vs. Dustin Hazelett
Joe Lauzon vs. Sam Stout
Duane Ludwig vs. Jim Miller
Junior Dos Santos vs. Gilbert Yvel
Martin Kampmann vs. Jacob Volkmann
Dan Lauzon vs. Cole Miller
Ryan Jensen vs. Mark Munoz
Jake Ellenberger vs. Mike Pyle
Rafaello Oliveira vs. John Gunderson
Again, UFC 108 does lack that star power we are used to seeing. That being said, there are a number of fights that have the potential to be fire work displays. On paper, almost all fights would be considered pick ems. That usually means fast paced fights with some highlight reel knockouts mixed in. I'll be tuning in.