Even though there has been an unreal number of fighters pull out of UFC 108, the show will still go on. Las Vegas and the MGM Grand will host to what ...

Once a year a fight card comes along that flies under the radar. Tonight is that night says my cousin Scott, as the UFC is making its Tennessee debut ...
It really is Andre Ward's time. He is the new Super Middleweight champion and he put on one hell of a performance. UFC 106 was a bit of a letdown but ...

Two excellent events in one night is always a good thing in the fight business. One unreal star outshined them all last night. Manny Pacquiao is a fr ...
Saturday night ... a great night for fight fans. The fight of the year in boxing. Manny Pacquiao takes on Miguel Cotto. Two of the greatest fighter ...

Last night UFC 104 took place in Los Angeles and the main event has everybody talking. Too bad they are talking for the wrong reasons as there was a v ...
The Ultimate Fighting Championship returns to the Staples Center in Los Angeles tonight and has a very nice card in store for fight fans. UFC 104 has ...
What is being called one of the best events to take place in boxing in quite awhile, got off to a rather questionable start. Fight fans were treated t ...
The opening round of the Super 6 World Boxing Classic starts tonight and fight fans everywhere are in for a treat. The Super 6 is a round robin style ...
Penn Dominant At UFC 107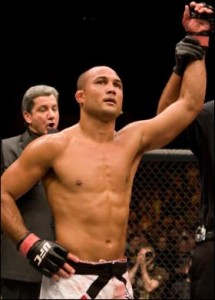 Last night in Memphis, Tennessee fight fans were given a show. The UFC was in town and one of the best fighters of all time made his case for the mythical pound for pound title. UFC 107's fight card was stacked top to bottom with very solid matchups and everyone who was there or tuned into the pay per view saw some great action.
In the night's main event BJ Penn showed everyone that when is focused and motivated he is nearly unbeatable. He destroyed top contender Diego Sanchez in what turned out to be a mismatch. Penn dominated in every aspect of the fight and kept his title via 5th round TKO. The fight was stopped by the doctor and ref as Penn opened up a gigantic cut on Diego's forehead. It almost looked like he got hit with an axe.
It only took about a minute to see that Sanchez had no chance. Penn floored him a few times with power shots and knew that Diego couldn't hurt him. Sanchez then tried for takedowns the rest of the night with zero success. BJ Penn had his way with him and cruised to an easy victory. After watching last night's fight, I don't know if there is anyone who can beat BJ Penn at 155 pounds.
Staying in the 155 pound weight class, former title contender Kenny Florian won an impressive fight over Clay Guida. Florian used his superior all around skills to get back to his winning ways with a rear naked choke in the 2nd round. The choke was set up by a perfect one two combination that floored Guida.
While Guida is a very good entertaining fighter, Florian is just at a different level. Kenny was able to land some big punches and elbows and cut Guida open early in the fight. Clay couldn't get comfortable after that and it all went downhill from there.
The co-feature fight of the night saw former heavyweight champ Frank Mir destroy Cheick Kongo. Mir had been taking for a few month that Kongo is nowhere near his level and he went out and proved that. Mir landed a huge left hand that floored Kongo and then Frank went in for the kill. He grabbed Kongo's neck and the rest is history. Mir wins via choke in dominating fashion.
I'm the leader of the Johny Hendricks bandwagon and he didn't disappoint. He steamrolled to a very easy unanimous decision over Ricardo Funch. He used crisp striking and top of the food chain wrestling to handle Funch for the full fifteen minutes.
Full results:
B.J. Penn def. Diego Sanchez via TKO (cut) - Round 5, 2:37
Frank Mir def. Cheick Kongo via submission (guillotine choke) - Round 1, 1:12
Jon Fitch def. Mike Pierce via unanimous decision (29-28, 29-28, 29-28)
Kenny Florian def. Clay Guida via submission (rear-naked choke) - Round 2, 2:19
Stefan Struve def. Paul Buentello via majority decision (29-28, 29-28, 28-28)
Alan Belcher def. Wilson Gouveia via TKO (strikes) - Round 1, 3:03
Matt Wiman def. Shane Nelson via unanimous decision (30-27, 30-27, 30-27)
Johny Hendricks def. Ricardo Funch via unanimous decision (30-27, 30-27, 30-25)
Rousimar Palhares def. Lucio Linhares via submission (heel hook) - Round 2, 3:21
DaMarques Johnson def. Edgar Garcia via submission (triangle choke) - Round 1, 4:03
T.J. Grant def. Kevin Burns via TKO (strikes) - Round 1, 4:57
UFC 107 goes down as the company's last event in 2009. A solid card produced some very entertaining fights and has all fans wanting more moving into 2010. Both Strikeforce and WEC have events next weekend that will keep the mixed martial arts world entertained until UFC 108 on January 2nd.