With wins in each of their past three games, the Browns are one more season ending win against the Jaguars away from their longest winning streak of t ...
Here's an item from the Didn't See This Coming Department, at least as it was established some two months ago. When the Browns were in a midst of a se ...

Today we bring to you the first installment of what is going to be a sweeping and comprehensive review of the best and the worst of Cleveland Browns f ...
If unscientific polls have any validity, then the Cleveland Browns' hiring of Mike Holmgren as their next president is an overwhelmingly popular move ...

The final year of the first decade of the 21st Century was, once again, devoid of world championships for Cleveland's teams. But even without trophies ...
It's been a rough go of things for Randy Lerner as the Browns owner ever since he took over the reigns of the team after his father Al passed away. I ...

Sherlock Holmes has been portrayed in film for years, but has been out of our collective consciousness since probably 1979 with Christopher Plummer pl ...
In a game that served mostly as a series of reminders and what ifs, the Cleveland Browns beat a mistake-prone Oakland Raiders team 23-9. It was a rem ...
The history of the NFL is rife with legendary quarterback duels. From the Sonny Jurgenson-Don Meredith shootouts of the �60s to the Dan Marino-Ken O'B ...
The Morning After: Browns/Raiders Edition
As Charlie Frye broke the Oakland huddle yesterday afternoon, a feeling somewhat unknown swept across Browns Nation - confidence.
Our suddenly "peaking" Browns have now won three straight games, a number that is relatively astronomical, at least compared to the dark days of months past. And beyond the wins, the spirit of inspired, passionate football that has permeated the month of December is beyond measure.
Or, in other words - unlike past Decembers, I hate to see this season end.
Having said that, let's go to the
scorecard.
1. I had to dust this one off, but which D.A. will show up this afternoon?
Earlier in the year, the choices were limited to these: the attacking, gunslinger DA who could easily find himself in the midst of an unbelievable hot streak, or the goofy slacker who rocketed seven-yard slants towards random feet and elbows. However, yesterday we discovered that there may just be a happy medium for DA...
Call it the Man Who Wasn't There.
Because of Jerome Harrison's record-setting number of rushing attempts and the Browns ability to sustain some time-killing drives, DA really didn't get the opportunity to establish much of a passing game. Much like Brady Quinn has delivered over the past month of the season, the Browns braintrust has finally realized that the key to offensive success is to simply take the ball out of the hands of the quarterback.
Which of course means that in perfect backwards Cleveland progress, we'll see the current philosophy scrapped next year for the West Coast offense system to be slowly and painfully established.
2. Speaking of which, could today mark the beginning of what could be the brief tenure of Brett Ratliff in Cleveland?
Maybe the key to DA's future success in Cleveland - if such a thing exists - is for the Pacific Northwest gunslinger to sit out a month or more between starts. As for Ratliff, if you would have predicted months ago that the second year enigma would still have not taken the field in 2009, I would have...well, I don't know - probably not cared.

3. Can the Browns continue to make strides in the running game? Last week, the Browns O-line and Lawrence Vickers created some major lanes for Harrison - will we see more this afternoon?
Perhaps the Browns can petition the league to exclusively play the Chiefs and Raiders from now on. For the second week in a row, the Browns offensive line was close to dominant in terms of run blocking. And in case you haven't noticed, rookie center Alex Mack is becoming a beast of a blocker. Regardless of the upcoming offensive changes for 2010, I love the idea of Thomas and Mack serving as cornerstones of the line.
Also, credit again has to go to the Browns tight ends and Lawrence Vickers. Vickers is making a serious case for Pro Bowl consideration - albeit a candidacy that is limited by the Browns four wins. Vickers has blossomed over the past month of the season and is becoming an explosive run blocker. And really, what a difference a year makes. This time last year, Vickers was yelling at DA in the huddle.
4. Is Alex Mack worthy of Rookie of the Year consideration? Of course, playing as a center on a 3-11 team automatically disqualifies him for such an honor, but at the least - will we see him continue to blossom?
Mack has to be at least mentioned in the discussion. Obviously, in our post-modern NFL, stats determine essentially everything - and it's difficult to measure the progress of a center. However, the Browns line has taken off since the bye week and it's beyond promising to watch Mack essentially get better every week.
5. Is John St. Clair not going to play? Really? Could it be?
Although it hurts me to say it, but give some credit to Floyd Womack and Rex Hadnot. By no means is either player anything more than a stopgap at this point in their career, but things could be far worse. Or, far better, assuming that the Browns target some offensive line help early in next year's draft.
6. Can the Browns channel their pass rush of two weeks ago against Charlie Frye, a QB who never saw a pocket he liked?
Is there any quarterback in the league that Cleveland fans were more delighted to see yesterday than Frye? Besides the local ties and the fact that Frye is basically a good guy, his continued erratic play was a most welcome sight. Playing like he is still in the MAC conference, Frye was pressured early on and forced some bad throws, which practically killed any hopes of a Raider threat.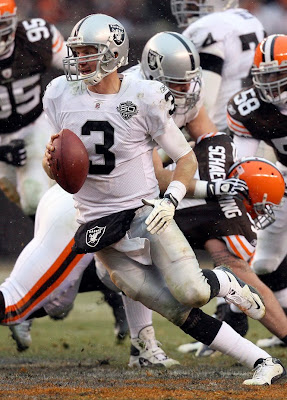 7. Is Eric Wright again victimized by some speedy receivers with size?
Wright has proven over and over this season that he is not a quality downfield cover man. Much like last week in KC, Wright was victimized downfield. However, in terms of smaller area coverage, Wright is nothing but solid. His red zone work yesterday was impressive and he came away with a key interception. However, like I've said a thousand times, Wright desperately needs a top-flight corner to work with for the future.
8. Will Jason Trusnik again be seen chugging down the sidelines, some twenty yards behind a streaking running back?
I read a stat that ranked Trusnik as the league's worst coverage linebacker - basically opposing teams have a 90% completion rate against the Browns special teams coverage man. I'm just saying - something to think about for next year.
9. Does Mangini continue to make his case for Cleveland employment in 2010?
Mangini has done absolutely nothing over the past month to warrant a potential firing. And in terms of keeping his team focused and motivated to play, Mangini has been nothing short of remarkable. Beyond the team's now three-game win steak, just compare the Browns to other traditional league powers. In New York, the Giants - who are actually still (or were) in the playoff hunt, played like a 3-11 team yesterday. As did several other teams.
But the Browns keep on delivering watchable, inspired and quality performances. In many respects, this current group of Browns has provided more enjoyable football than the 2007 version of the team - the one who nearly crashed the playoffs. There is just something inherently rewarding watching a team finally enjoy the fruits of nearly a calendar year of hard work.
As I stated yesterday, I find this team incredibly easy to root for.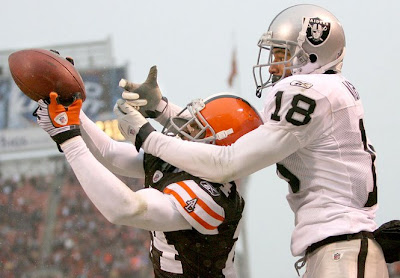 10. Will Mike Holmgren see anything he likes this afternoon?
Although last night's headline from a prominent Cleveland media source would suggest otherwise, it turns out that Holmgren was extending his holiday celebration in Arizona. So technically Tony, the Holmgren regime has not yet begun.
Let's hope that today's media gathering will shed some light on Holmgren's eventual plans for the franchise. While I'm sure that nothing substantive will be revealed this afternoon, I'll remain positive that Holmgren will truly evaluate the worth of all players involved among the current team.
Again, if Mangini is deemed the best candidate for the team moving forward, then so be it. If not, then the decision will hopefully be made within the context of overall franchise improvement. However, for the meantime, I say we just enjoy the fact that our beloved Browns are one of hotter teams in the league at the moment.
The Pick - Part Three

And while
"the process"
has been incredibly painful to absorb this season, it looks like these current Browns - at least the 2009 version of the team - are finally establishing a rather unique identity. A terrific running game and sometimes strong defense are no doubt the cornerstones of a traditionally sound NFL franchise.
And in Mangini's case - he of the eternal hot seat - perhaps his recent postgame comments, where he has brought up Holmgren's name without being prompted - could signal that he, like our current collection of castoffs is ready to begin a new phase of "the process."
Or, we should prepare for the dawning of the Jim Zorn era in Cleveland.