With wins in each of their past three games, the Browns are one more season ending win against the Jaguars away from their longest winning streak of t ...
Here's an item from the Didn't See This Coming Department, at least as it was established some two months ago. When the Browns were in a midst of a se ...

Today we bring to you the first installment of what is going to be a sweeping and comprehensive review of the best and the worst of Cleveland Browns f ...
If unscientific polls have any validity, then the Cleveland Browns' hiring of Mike Holmgren as their next president is an overwhelmingly popular move ...

The final year of the first decade of the 21st Century was, once again, devoid of world championships for Cleveland's teams. But even without trophies ...
It's been a rough go of things for Randy Lerner as the Browns owner ever since he took over the reigns of the team after his father Al passed away. I ...

As Charlie Frye broke the Oakland huddle yesterday afternoon, a feeling somewhat unknown swept across Browns Nation - confidence. Our suddenly "peakin ...
In a game that served mostly as a series of reminders and what ifs, the Cleveland Browns beat a mistake-prone Oakland Raiders team 23-9. It was a rem ...
The history of the NFL is rife with legendary quarterback duels. From the Sonny Jurgenson-Don Meredith shootouts of the �60s to the Dan Marino-Ken O'B ...
Movie Review: Sherlock Holmes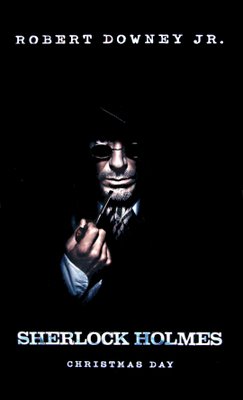 Sherlock Holmes has been portrayed in film for years, but has been out of our collective consciousness since probably 1979 with Christopher Plummer playing the famed sleuth in "Murder by Decree". So Guy Ritchie has an almost blank slate to work with when it comes to the movie-going public, at least, in updating the 19th century detective to appeal to 21st century audiences.
On the other hand, Ritchie seemed to me to be more handcuffed than ever before. The Scotsman formerly "best known" (in some circles) as Mr. Madonna has made a cottage industry in creating memorable, unique characters and scripts where you never know what to expect. It's led to some very popular films about the London underworld, and the shady characters that live there as seen in the films "Lock, Stock, and Two Smoking Barrels", "Snatch", and "RocknRolla".
So how would Ritchie deal with an iconic character that is at least familiar to most, and beloved by many? Quite well, actually, as it turns out.
"Sherlock Holmes" works as an action-adventure with sass and style, thanks to Ritchie's crisp direction, and the sparkling chemistry between the lead actors; Robert Downey Jr. as Holmes, and Jude Law as his trusted side-kick, Dr. John Watson.
Downey Jr. is the perfect choice for Holmes, as the former mercurial actor continues his triumphant return to prominence that began last year in "Iron Man". And it turns out that Holmes is another flawed character that Downey can sink his teeth into. Holmes' genius in deductive reasoning is on display constantly, but Downey does an excellent job in showing the tortured soul behind the intellect. Sir Arthur Conan Doyle did not hesitate to inflict his protagonists with numerous human foils, and Downey relishes in showing Holmes as a man fighting his internal demons...although in this film, they are more amusing idiosyncrasies than the deep problems that eventually lead Holmes to an addition to heroin.
Ritchie's best decision is to portray Watson not in the same manner as he has usually been shown on film: the bumbling, inept hanger-on to Holmes. Ardent fans of the four Sherlock Holmes books and numerous short stories have always been offended of that degrading representation of Watson. Not to worry here, as Jude Law and Ritchie present Watson as every bit Holmes' equal; a brilliant man who steadfastly defends his friend (although he's not above punching him in the nose to bring him back to his senses). Watson possesses a rapier wit, superior intellect, and a great deal of physical presence as well, as they follow Doyle's description which shows Watson as a military man and former rugby player. Watson's weaknesses are also on display, as Holmes must continually keep the good doctor away from his greatest temptation; giving into his addiction to gambling.
The two seem to be almost more comfortable in a battle of fists than a battle of wits, with several fights that remind you more of Batman and Robin than Holmes and Watson. Law and Downey work extremely well together, and the characters' banter and obvious deep friendship never strikes a false chord. They are a perfectly balanced team, and a joy to watch.
For the plot itself; that is the weakest part of the film. It is an original story, not based at all upon any of Doyle's previous works. A Jack-the-Ripper type of killer (Ritchie favorite Mark Strong, menacingly effective) is apprehended early in the film, but evidently the hanging he received didn't quite stop him from his killing spree. Therefore Holmes and Watson end up chasing a ghost, and the implications of the supernatural befuddle the coldly logical Holmes.
Unfortunately, some of the investigations come across more as "CSI: Olde London" than anything else, serving as just a bridge between action sequences. Also somewhat confusing is the use of Rachel McAdams as the American con woman Irene Adler. She has Holmes' heart, but it's unclear if that's due to her personality and charm, or the fact that she was able to con him in previous meetings. For the most part, she only seems to be there to set up a female angle, along with helping introduce the element that will take center stage in the sequel, which is certainly coming.
But plot is not the reason to go see this movie; you should see it for the action, the great visuals of Victorian London in all its glory and squalor, and especially the camaraderie between Downey Jr. and Law. At this time of year, movies either seem to be big budget popcorn flicks or contenders for awards. "Sherlock Holmes" is most definitely in the former category, but that's not a problem...it's great to have a break from the "serious" movies and just be able to sit back and have some fun.
"Sherlock Holmes" is fun.
My Rating: Frank Ryan (3 footballs).
Review Key:
Otto Graham: Over 4 Footballs. HOF quality movie
Bernie Kosar: 4 Footballs. Excellent
Brian Sipe: 3 ½ Footballs. Very Good
Frank Ryan: 3 Footballs. Good
Bill Nelsen: 2 ½ Footballs. OK, I guess. Worth renting.
Kelly Holcomb: 2 Footballs. Disappointingly inconsistent but some bright spots.
Tim Couch: 1 ½ Footballs. Poor. Had potential, but lack of support led to an overall stinker.
Jeff Garcia: 1 Football. Piss-poor. All hype, and no performance.
Mike Phipps: ½ Football. "We gave away Paul Warfield for THIS?" level of suck
Spergon Wynn: No Footballs. UberSuckitude personified.