With wins in each of their past three games, the Browns are one more season ending win against the Jaguars away from their longest winning streak of t ...
Here's an item from the Didn't See This Coming Department, at least as it was established some two months ago. When the Browns were in a midst of a se ...

Today we bring to you the first installment of what is going to be a sweeping and comprehensive review of the best and the worst of Cleveland Browns f ...
If unscientific polls have any validity, then the Cleveland Browns' hiring of Mike Holmgren as their next president is an overwhelmingly popular move ...

The final year of the first decade of the 21st Century was, once again, devoid of world championships for Cleveland's teams. But even without trophies ...
It's been a rough go of things for Randy Lerner as the Browns owner ever since he took over the reigns of the team after his father Al passed away. I ...

Sherlock Holmes has been portrayed in film for years, but has been out of our collective consciousness since probably 1979 with Christopher Plummer pl ...
As Charlie Frye broke the Oakland huddle yesterday afternoon, a feeling somewhat unknown swept across Browns Nation - confidence. Our suddenly "peakin ...
In a game that served mostly as a series of reminders and what ifs, the Cleveland Browns beat a mistake-prone Oakland Raiders team 23-9. It was a rem ...
The history of the NFL is rife with legendary quarterback duels. From the Sonny Jurgenson-Don Meredith shootouts of the '60s to the Dan Marino-Ken O'B ...
The Morning After: Browns/Steelers Edition
Not since the days of Tim Couch and Butch Davis have we been able to celebrate a Browns win over the Steelers. And despite our current 2-11 record and the always tenuous fate of our franchise leader(s) heading into the offseason, let's at least enjoy this one for what it was...which was simply a dominating defensive performance over a hated rival, at home, in a game that the Steelers desperately needed to win.
Enough said.
And much like the Giants game of a year ago, several Browns players saved their best performances of the season for prime time. The secondary, in particular Eric Wright and the much beleagured Brandon McDonald, played solid man coverage all evening, which allowed Rob Ryan to dial up an aggressive mix of blitzes and stunts.
And when the Browns simply brought three or four pass rushers, the deep coverage blanketed Ben Roethlisberger's targets, which created the most precious gift of all - the coverage sack.
Isn't it funny what solid man coverage can bring to a defense?
Offensively, the Browns didn't do much, but did enough to sneak out a win. Once again, Josh Cribbs carried the team, totaling some 200 yards between his rushing and special teams returns. On offense, Cribbs provided a much-needed third down spark that helped to compensate for another dreadful evening of passing.
And speaking of running the ball, the emergence of Chris Jennings was another welcome sight. Jennings broke some nice stretch runs to the outside, taking advantage of an offensive line that looked very mobile throughout the night.
And finally, while watching last night's game, it dawned on me that the Browns played more like the Steelers used to play, which of course is a style that features an attacking defense, strong running game and a conservative passing approach - you know, a style that the current Steelers are no longer built to employ.
And of course, last night's win would not be such without the usual strong efforts of the special teams units. Besides Cribbs' electric first half punt return, the coverage teams played their usual terrific game, including the likes of Blake Costanzo. Also, give credit to Reggie Hodges. Figuring out a northeast Ohio wind in December is nothing short of challenging.
And speaking of winds - of change, at least - what has happened to the once mighty Steelers? At times this season, the Steelers looked like the dynamic team that ran the table to the Super Bowl, however last night some unfortunate realities about the Black and Gold revealed themselves: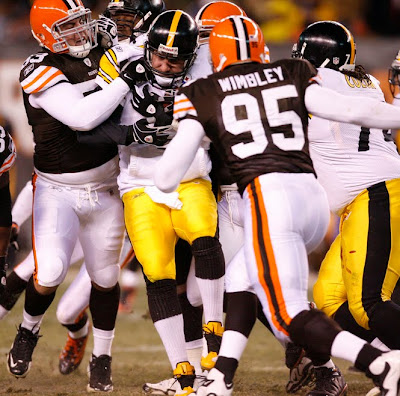 1. The Steelers are no longer a cold-weather team. Besides the striking fact that they pass over 60% of the time, they cannot generate a consistent, physical ground attack - even against depleted rosters such as ours and the likes of Oakland and Kansas City.
2. To add to the first point, the Steelers are losing their souls. Obviously, the Steelers recognized the shifting of the league from traditional football into the flag variety over the past few seasons. And of course, the Steelers have a Super Bowl title because of it.
However, much like the Bill Cowher era Steelers, who usually followed 2-3 years of physical offense with a pass-happy reprieve, this team needs to re-establish some tradition and basically upgrade their offense, either through personnel or coaching moves.
3. The loss of Troy Polamalu is critical.
4. Ben Roethlisberger is not right. Attribute it to the concussions, which I have predicted before will prematurely end his career, or something else, but as Ben goes, so go the Steelers.
5. Oh, also - we have the same number of divisional wins as the Steelers this season.
But enough about them. The Steelers' chances of making the playoffs are only slightly better than ours at this point.
So, while basking in the glow of the biggest win of the Eric Mangini era, let's take a look at some picks.
1. Can Brady Quinn not chug a case of 5-Hour Energy before kickoff this week? I know it's a divisional game and all, but please - calm down, buddy. Or, in other words - can Quinn continue to progress and give the Browns a legitimate chance to compete?
And here's where the cynic in me jumps out.
First, let me say this: Quinn was not as schoolgirl hyper has he has been in recent weeks. This is progress. And in terms of "managing the game", which is a euphemism for "not completely screwing things up", Quinn succeeded. We cannot attribute any turnovers to Quinn and I will grant that he made 2-3 plays downfield.
However, here it is - Quinn is not the long-term answer at quarterback. Or, how about this - after watching Quinn for some ten games now, I have no idea what his strengths are.
And while stability is great - and I support Mangini's decision to continually start Quinn, I again have to ask:
What is Quinn's strength as a quarterback?
Or, let's at least look at his weaknesses.
First, he cannot throw the deep ball. Of course, last night - the wind negated this option in most cases. Second, Quinn is not accurate on intermediate throws. Also, he is still really not a crisp, short passer. He tends to either rush his throws or hold on to the ball for an eternity, and he plays "short", at least in terms of finding windows to get the ball through.
And while last night, he again "managed" the offense - I can't envision a promising future where our defense gets eight sacks a game and one offensive touchdown is all that is needed.
However, it is more than possible that Quinn will continue to improve. However, now being three years removed from college, it is disturbing to see that Quinn's accuracy is still below average. If you can concede that the deep ball is not a part of his game - which it isn't - you have to be concerned that he is not efficient in any other necessary aspects.
And while I'm not advocating a benching of Quinn for the rest of this season - considering the alternatives - I am suggesting the quarterback position is far from settled.
Of course, our offensive talent is nowhere mature enough in its current state to bail Quinn out - and obviously, we need upgrades all over the current unit - but I can't see Quinn being the guy some 2-3 years down the road. For today, sure - but in the future?
But enough about him.


2. Will we see the continued blossoming of Jerome Harrison as an all-purpose back - you know, just in time to see him depart as a free agent in a few months?
Harrison contributed early on, but seemed to give way to Jennings and Cribbs for the rest of the game. Perhaps the best way to evaluate the running back play is to lump all three together. In this case, the Browns delivered what was their best team rushing effort of the season.
In terms of athleticism, a Wildcat option featuring this trio proved to be dynamic. While Cribbs did what he does best - which is make plays in the open field, Jennings took advantage of some nice stretch blocking and showed an intriguing blend of power and speed.
And credit Mangini for the emergence of Jennings - or maybe you have to cite the rare opportunities found amongst such a depleted roster, but either way, Jennings was solid. And much like in the Browns other win of the season, the running game carried this team.
3. Does the unlikely duo of Brian Robiskie and Evan Moore offer Quinn some tangible targets downfield?
Moore made a terrific downfield catch early on, and was targeted a few more times. Unfortunately for Moore, Quinn was throwing the ball all over the Stadium - evidentally aiming in his general direction. However, the continued presence of Moore was a most welcome sight. And also credit the Browns offensive scheme - did I just say that? - for lining up Moore all over the field.
Isn't it funny that an offense that is very tight-end friendly seems to perform better when an actual decent tight end is employed?
As for Robiskie, so it goes being an NFL rookie wideout. At least he suited up and played again. However, Robiskie's lack of production could be blamed more on the overall gameplan and due to Quinn's ineffectiveness.
However, speaking of the receivers, you have to give credit to Massaquoi and Robiskie for their run blocking. Along with Lawrence Vickers and the mobile offensive line, the Browns were finally able to stretch a defense and get some nice off-tackle runs.
4. Can the Browns Offensive Line handle the Steelers defense when they officially "unleash hell?"
I guess I'm still waiting for Mike Tomlin to finally give the signal.
For the most part, the pass blocking held up. For most of the evening, Quinn had a decent pocket to work with. With the exception of a couple of series, one that involved complete domination by LaMarr Woodley, the Browns line was more than capable.
Again, in terms of run blocking, I am continually impressed by the efforts of Alex Mack. Don't look now, but the Browns may have something dynamic happening when Mack pulls out with Joe Thomas sweeping down the sidelines. Although a center doesn't get much attention in terms of respect, Mack has definitely enjoyed a very good rookie campaign.
5. Does Ben Roethlisberger continue to enjoy eight seconds of an unmolested pocket each time he drops back to pass?
There is no better elixir than watching Roethlisberger get dropped eight times in one game.
Again, credit the play of the Browns' man coverage for most of these sacks. While never dominating, Wright, McDonald and even Hank Poteat shadowed the Steelers' wideouts all evening, which gave Rob Ryan the leverage to call some aggressive blitzes.
However, the most satisfying development last night was seeing the Browns get some pressure and sacks while only rushing three or four linemen. On this note, give credit to Marcus Benard, the latest of Mangini's practice squad finds - although Benard has been around since training camp - along with the play of Corey Williams.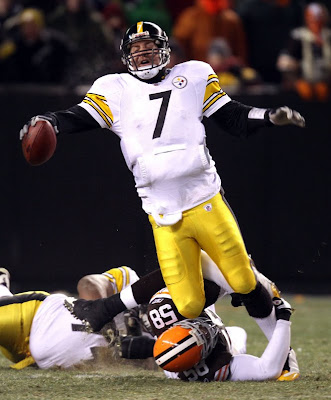 And although it may sound sacrilegious to say, it appeared that the Browns D-line played a much more mobile game without Shaun Rogers in the middle. And while I'm certainly not advocating that this defense is better without its best player, give some credit to Ryan for being creative with his rotations.
6. Which rookie linebacker or safety prospect will I think of when the Browns try to cover Heath Miller with either David Bowens, Jason Trusnik or Abe Elam?
Heath Miller was neutralized for the most part. I can only recall one play where David Bowens gave futile chase to Miller down the field. However, you have to credit the Browns early pass rushing success here. Throughout most of the game, Miller was either on the sidelines while the Steelers brought in four wideouts, or was relegated to pass protection.
7. Is tonight truly Mangini's "last chance" for redemption?
I would think so. And if indeed this was Mangini's last stand, he certainly picked an opportune time to make a statement regarding his process.
And although we still sit at 2-11, the signs of progress are evident. Playing a roster full of rookies and castoffs, the defense and special teams turned in a remarkable performance. And not to again sound like a cynic, but it is beyond obvious that the Steelers are a mess right now. Roethlisberger does not look like the bold quarterback of old, and even the defense has lost some of its tenacious luster.
However, a win is a win - and certainly a win over the Steelers will give Mangini some breathing room over the next few weeks, as well as also give him new devotees among Browns Nation.
The Pick - Part Three

Despite such an important and enjoyable win, the cruel irony inherent in the Browns overall dysfunction as a franchise will likely kill any momentum heading into the offseason - and perhaps this is a good thing.
Mangini has proven lately that he is a quality coach. Again, considering the level of talent currently found among this roster, Mangini and his staff have done a tremendous job in terms of preparation and motivation. In a wonderful contrast to some Decembers past in Browns lore, this current team is one that is perhaps playing the most team-centric, inspired football that we've seen in a long time.
However, the realist in me has to point to the fact that Mangini is the type of coach and personnel evaluator that does not appear welcoming to the idea of featuring top-notch talent. In many ways, Mangini is more of a college-coach, in terms of dealing with egos and not compromising with unhappy professional players.
And not that these are bad traits - quite the opposite, in fact - however, is our current state of personnel reflective of our future with Mangini - if such a thing exists? Or, in other words - will a Mangini roster exclusively feature hard working, intelligent players who are merely average in their talents?
Are we destined for a roster of Brian Schaeferings and Matt Roths?
For now, I'm greatly enjoying watching such an underdog team that is capable of successes such as last night. However, while we can bask in the glow of the present, the looming problem always remains:
This franchise is far from being legitimate.
And to achieve true long-term success, Randy Lerner has to bring in some competent front-office people to run his inherited franchise. The Browns current demise begins and ends with Lerner's weak ownership. No one game - although as great as it was - can change this.
And such is
the dilemma
.
Any action performed by Lerner in the coming weeks and months will likely either derail the progress - however you may view it - shown by Mangini, or will validate the current flawed system, which will only affirm Mangini as the defacto Supreme Ruler of Berea.
But for now, let's at least enjoy this win. Anytime you tell an annoying, spoiled Steeler fan that much like our team, yours will also sit out the playoffs, it's a good day.
In fact, I urge you to do the following: call up a Steeler fan and invite them to watch the playoffs with you.
For the first time in ages, we can finally run our mouths just a little.