Jim Tressel and Terrelle Pryor each came into the 2010 Rose Bowl with something to prove to a doubting nation. By the time the Buckeyes wrapped up the ...
After winning six conference titles in nine seasons under Jim Tressel, the Ohio State Buckeyes finally arrive Friday at the destination that is suppos ...

Sad but true- Ohio State hasn't experienced a great deal of success in bowl games over the last twenty-five years. The Buckeyes are just 9-13 in the p ...
Part two of "Let's Go Bowling" takes us to the games of New Year's Day and beyond, including the BCS Championship Game and Ohio State's Rose Bowl batt ...

Hard to believe it's been a month since Michigan ... and since the entire last edition of the Leaves was devoted to football recruiting, there's a lot ...
Once again its bowl season, the time of year in which college football entertains us with a variety of games, some eagerly anticipated... others not s ...

Along with Dan Wismar, he's been Johnny on the Spot for us on the Buckeye football and college football beat this season. And with the regular season ...
With a 10-2 regular season and the Big Ten title in the bag, and the Rose Bowl still a few weeks out, it's an opportune time to catch up with Coach Tr ...
Ohio State's 21-10 victory over Michigan in Ann Arbor was routine in a way long-time Buckeye fans could have never dreamed of in the bad old days of t ...
The state of Ohio and that state up north went to war this weekend. Leg one, the much more important leg, went to the good guys ... when the Buckeyes ...
Preview: Ohio State at Michigan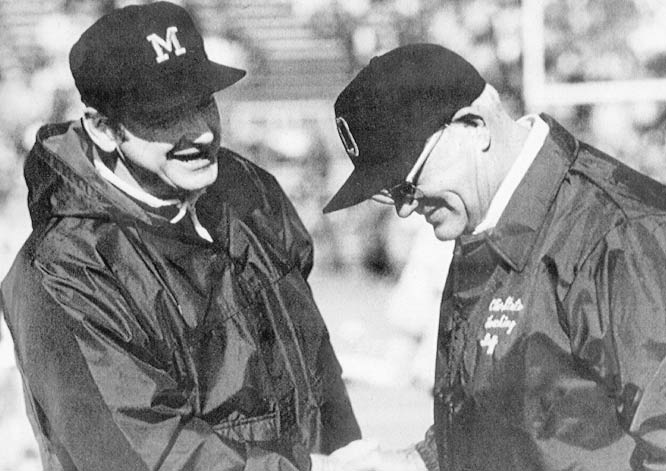 Saturday, November 21, 2009

Michigan Stadium - Ann Arbor, Michigan

Ohio State (9-2, 6-1) vs. Michigan (5-6, 1-6)

12:00 p.m. (ET)

TV: ABC


Where's the buzz? It's Ohio State-Michigan, for crying out loud.

Truth is, there isn't much buzz this year, because to most of the college football world, there's not a lot at stake in The Game v.2009. The Rose Bowl bid is in the bag for Ohio State, as is a share of the conference title. Meanwhile, the Wolverines' season has disintegrated from a promising 4-0 start to an unprecedented six-game Big Ten losing streak and a second straight year of embarrassment for a proud program.

Now, if recent history is any indicator...if superior talent counts for much...if the experts' opinions mean anything...and if the forces of all that is good and right in the universe prevail, Ohio State will beat Michigan for the sixth consecutive time on Saturday in Ann Arbor, and win the outright Big Ten championship as a bonus.

But this is Ohio State-Michigan. That means the laws defining the normal, the expected and the logical are traditionally suspended for three hours in mid-November while a bunch of kids play an intense, physical game of football, and an altogether unique chapter is written into the history of the greatest rivalry in sports. That's just the way it is. We've come to expect the unexpected, but we also have come to expect a certain balance of power in the series...you know, some ebb and flow.

Tressel and The Streak

At least that's the way it used to be...back in the day...before Jim Tressel arrived in Columbus and began owning the Michigan Wolverines, winning seven of the first eight times he faced them as OSU head coach. The new reality is clashing with the old, but one thing we know is that this rivalry has never been about six-game winning streaks. We know it has to end sometime, and when it does, it's a good bet it will happen in Ann Arbor.

Intensity and focus aren't supposed to be problems for Ohio State during Michigan week, but it remains to be seen if Jim Tressel can summon a third straight big game performance from his Buckeyes after dispatching #11 Penn State and #10 Iowa from the Big Ten title chase the last two Saturdays.

If Tressel's remarkable winning streak in The Game does end this year, even the most die-hard Buckeye fan would have to admit that there could be a lot worse times for it to happen. If it's possible for Ohio State to lose to Michigan with impunity, this would be the year. There, I've said it....no lightning bolts yet...

Deja Vu

With the exception of the venue, this year's version of OSU-Michigan looks a lot like last year's match-up. An Ohio State team with a 9-2 record and a 6-1 conference mark is once again playing for the Big Ten title against a Michigan program utterly in shambles. An OSU team relying on a strong rushing attack to protect their young quarterback takes on a suspect Michigan defense, while the Buckeyes' top-rated rushing defense tries to stop a pretty good Wolverine running game. You'll recall that last year's game worked out okay...to the tune of 42-7.

You may also recall that Michigan was given no realistic chance of beating the Buckeyes in that meeting, and yet they started out competing above expectations in Columbus, and trailed just 14-7 as they drove into Ohio State territory to start the third quarter. Switch that exact scene to the Big House...stir in the motivation of every single Michigan player to beat Ohio State for the first time...throw in some superior Michigan special teams...mix in the likely Big Ten Defensive Player of the Year, Brandon Graham...add just a pinch of complacency on the part of the Buckeyes...and a different outcome isn't too hard to imagine.
Last year, Rodriguez was quoted during OSU game week as saying a win over Ohio State wouldn't salvage the Wolverines' season, a disastrous 3-8 even before the Buckeyes put that beatdown on them. If nothing else, he seems to have learned that lesson over twelve months. He now says he "gets it", although he probably won't really get it until his players have tasted victory over the Buckeyes. To say the Wolverine players are hungry is like saying these two schools have a little football rivalry going.

The Wolverines are playing this one for a bowl game bid (and the valuable opportunity to practice for four or five more weeks), for their pride, and possibly for Rodriguez' job. How much the Michigan players want to win one for this coach is an open question, but circumstances do seem to favor Rodriguez surviving this season to coach in 2010 regardless of Saturday's outcome. Michigan A.D. Bill Martin has timed his retirement for September 2010, and he is unlikely to fire his hand-picked coach just months before he walks away from the school for good. That said, two consecutive seasons without a bowl game won't go down well with anyone in Ann Arbor.

In Jim Tressel's nine seasons at the helm in Columbus, he has lost 13 Big Ten games. If Rodriguez loses Saturday, it will be his 13th Big Ten defeat in just two seasons. Those numbers will not be lost on the power brokers at the University of Michigan. For those of us south of the border, all we can do is sit and watch it unfold. Pass the popcorn.

Wolves Limping on Offense

It's a bit unusual to see a team with a 1-6 conference record sitting atop the scoring offense statistics at 31.3 points per game, but there sits Michigan. In Big Ten play, they're averaging 23.9 points per game, a more believable 7th in the league. This team's biggest problems have been on the other side of the ball though, as the 'shootout' has become the preferred way of losing for the 2009 Wolverines. With Rodriguez' spread offense, a gutsy young quarterback, and a couple of very good running backs, the Wolverines have been able to move the ball on offense and score points.

Brandon Minor (502 yards, 8 TD's) is the best of those running backs, but he will miss this game with an injury, leaving the burden of the rushing attack to Carlos Brown (480 yards, 4 TD's) a slightly smaller, faster back with big-play potential. A couple of underclassmen have also seen playing time in the backfield this season. Diminutive freshman Vincent Smith (5' 8", 168) has carried for 244 yards on 40 carries, and sophomore Michael Shaw has 178 yards and two TD's on 35 rushes. Michigan is averaging 195.8 yards rushing per game, to rank 2nd in the conference, just ahead of OSU (194.2).

Throwing the football effectively has been more of a challenge for the Wolverines, as their 9th ranking in the Big Ten confirms. True freshman quarterback Tate Forcier has started every game in the Rodriguez spread, and has completed 58.4% of his passes for 1824 yards, with 12 TD passes and 6 interceptions. He has added 230 yards and three touchdowns running the ball, but has also paid the dues of a smallish (6' 1", 188) option quarterback, suffering a variety of injuries during the campaign.

Forcier's season started fast, as he readily adapted to the spread offense, and he arguably peaked in the win over Notre Dame, when he showed the national TV audience what a gamer he is, with a memorable comeback performance. Forcier is tough, fearless and very quick afoot, both in the pocket and in the open field. His arm is adequate, and he always looks comfortable in his role as field general. In many ways he appears seasoned beyond his years. His unusually small hands leads to a propensity to fumble the ball, though, and his size makes him vulnerable to injury, especially against a hard-hitting, physical defense like Ohio State. Denard Robinson, a super-quick freshman, is Forcier's backup, and he serves as a change of pace for the Wolverines, running with the ball (59 carries, 320 yds, 4 TD) more than he throws it (12 of 27 for 185 yds, 2 TD).

The Michigan offensive line is improved over last year, but they still have some question marks. Left tackle Mark Ortmann and left guard Stephen Shilling bring experience to that side of the line, but on the right side, redshirt freshman guard Patrick Omameh and junior tackle Perry Dorrestein are still learning the trade, and they must be giving Michigan coaches cause for concern going against the rugged OSU defensive front. Previously a starter at guard, senior David Moosman will start at center after starter David Molk went down for the season with a leg injury.

In the wide receiver corps, nobody jumps out at you as a "go to" guy, but freshman Ray Roundtree has emerged as the closest thing Michigan has to one, with 23 receptions for 318 yards and three TD's. Greg Matthews also has 23 grabs on the season, and Martavious Odoms is right behind him with 22 catches for 272 yards and one touchdown. Toledoan Kevin Koger is the starter at tight end, although he has been used sparingly in the passing game, contributing 16 catches for 220 yards and two TD's.


One is Not Enough


It is on defense that the proud Michigan football tradition has been turned on its head in 2009. The Wolverines have given up a league-worst 35 points per game in Big Ten play, and they are also last (that's 11th) in the conference in rush defense (196.6 yds), total defense (444.3 yds) and turnover margin (minus-9). It seems bizarre that the Big Ten's Defensive Player of the Year could come from a defense that is this weak overall. But honestly, defensive end Brandon Graham is that good.

The 6' 2", 263 lb. senior leads the Big Ten in tackles for loss with 21, and is tied for second in sacks with 8.5 for the season. He can be a one-man wrecking crew for the defense with his combination of speed and strength charging into the offensive backfield on every down. The Buckeyes will not only have to be aware of where #55 is on every play, they'll have to be able to do something about it. The defensive ends in the Big Ten this year are as talented and deep as any group in recent memory, with Wisconsin's O'Brien Schofield, Northwestern's Corey Wootten, Purdue's Ryan Kerrigan, Iowa's Adrian Clayborn and OSU's Thad Gibson all likely to eventually play on Sundays. But Graham is the best of the lot. Period.

The sad reality for Michigan on defense is that Graham doesn't have a lot of help. They are starting freshman Craig Roh opposite Graham at the other end spot, and sophomore defensive tackles Mike Martin and Ryan Van Bergen haven't been able to slow down the running games of their opponents despite the presence of Graham. There is help coming at the tackle spot, with talented freshman William Campbell starting to get time in the rotation. Behind them, the linebacker play has been spotty...to be kind.

Obi Ezeh, Stevie Brown and Jonas Mouton are all returning starters at linebacker for the Wolves, but the coaches have been experimenting with alternatives like sophomores J.B. Fitzgerald and Kevin Leach as they struggle to find an effective combination. Tackling has been a problem, as the Wolverines have given up numerous big plays in the rushing game. Ohio State ran for 267 yards against UM last year, including TD runs of 59 and 49 yards, so even without Beanie Wells in the lineup this time around, the Buckeye strategy for 2009 isn't hard to figure out.

In the Michigan secondary, junior cornerback Donovan Warren stands out as the best of the group. Warren has four interceptions to lead Big Ten cornerbacks in that category, and his partner at the other corner is Troy Woolfolk (son of Butch) a junior who has been playing well for them most of the year. The prevalence of big plays tells you that the work of the Michigan safeties has been less than adequate. Those spots are manned by sophomore Mike Williams and redshirt freshman Jordan Kovacs. A Buckeye offensive game plan focused on exploiting their inexperience would be a good place to start.


One That Got Away

The best punter in the conference if not the best in the country is Michigan's Zoltan Mesko, who happens to be from Twinsburg. He's big for a punter at 6' 5", 231, and averages 44.7 yds per punt in this his senior season. Mesko has given up just two touchbacks in 46 punts this season. He'll be a lot richer this time next year. The placekicking has been adequate for the Wolverines, with senior Jason Olesnavage hitting on 10 field goals in 13 attempts, with a long of 51 yards.

On the whole, you have to give Michigan the edge on special teams in this matchup, when you consider the weapon they have in Mesko, their second-ranked punt return average, and the super job that Darryl Stonum has done on kickoff returns (938 yards, 26.1 avg, 1 TD). Contrast that with the recent inconsistency of OSU punter Jon Thoma, Ohio State's reliance on a backup placekicker in Devin Barclay, and the Buckeyes' consistent problems returning kickoffs. Ray Small has alternated between scintillating and scary this year returning punts for the Buckeyes, and you never know which guy will show up on game day. Advantage Michigan.


The Outlook


Michigan has beaten three pretty bad teams (E. Michigan, W. Michigan, Delaware St.) with a combined record of 8-26, an Indiana team with one conference victory, and a respectable (6-4) Notre Dame team...and that's it. One win over a team with a winning record...and that on a last-minute touchdown.

The young quarterback that sparked their September optimism and their 4-0 start has looked like any other freshman once he got into conference play. They are missing their best running back. They have the worst turnover margin in the Big Ten. The defense stinks. There's no compelling logical reason outside the presence of 100,000 partisans in the stands for this game to be close.

But I think it will be.

The fact that it's Ohio State-Michigan is reason enough to make that leap, and the many other contributing factors are detailed above and don't require repeating. The Game is nearly always closer, lower-scoring and less predictable than it has any reason being. Last year was an aberration...the exception to the rule.

I can't get past the sense that Michigan simply wants it more. It's not an indictment of OSU coaches or players to admit that Michigan has more need to win, and therefore more desire to win. I expect the Wolverines to be pumped and playing over their heads. I expect Ohio State to play standard Tresselball, and keep the game closer than it should be. (I realize I'm way out on a limb there)

The line is 13.5 points. Again this week, I think that's too many. The Buckeyes have been methodical in the last two big victories...running the ball for over 200 yards per game, and not turning it over. If they do that again, it might not be as close as I'm predicting, but based on what's at stake for the University of Michigan, I look for a game that's tight all the way.

The team with the better talent is Ohio State, and they should still end up on top. Without a defensive or special teams touchdown, it's hard to envision Michigan scoring enough points to win. I'm thinking it'll be OSU by 8....say 24-16.


Links:


OSU - Game Notes (pdf)

2009 OSU Roster

2009 Michigan Roster