Jim Tressel and Terrelle Pryor each came into the 2010 Rose Bowl with something to prove to a doubting nation. By the time the Buckeyes wrapped up the ...
After winning six conference titles in nine seasons under Jim Tressel, the Ohio State Buckeyes finally arrive Friday at the destination that is suppos ...

Sad but true- Ohio State hasn't experienced a great deal of success in bowl games over the last twenty-five years. The Buckeyes are just 9-13 in the p ...
Part two of "Let's Go Bowling" takes us to the games of New Year's Day and beyond, including the BCS Championship Game and Ohio State's Rose Bowl batt ...

Hard to believe it's been a month since Michigan ... and since the entire last edition of the Leaves was devoted to football recruiting, there's a lot ...
Once again its bowl season, the time of year in which college football entertains us with a variety of games, some eagerly anticipated... others not s ...

Along with Dan Wismar, he's been Johnny on the Spot for us on the Buckeye football and college football beat this season. And with the regular season ...
With a 10-2 regular season and the Big Ten title in the bag, and the Rose Bowl still a few weeks out, it's an opportune time to catch up with Coach Tr ...
Ohio State's 21-10 victory over Michigan in Ann Arbor was routine in a way long-time Buckeye fans could have never dreamed of in the bad old days of t ...
The state of Ohio and that state up north went to war this weekend. Leg one, the much more important leg, went to the good guys ... when the Buckeyes ...
Preview: Ohio State at Penn State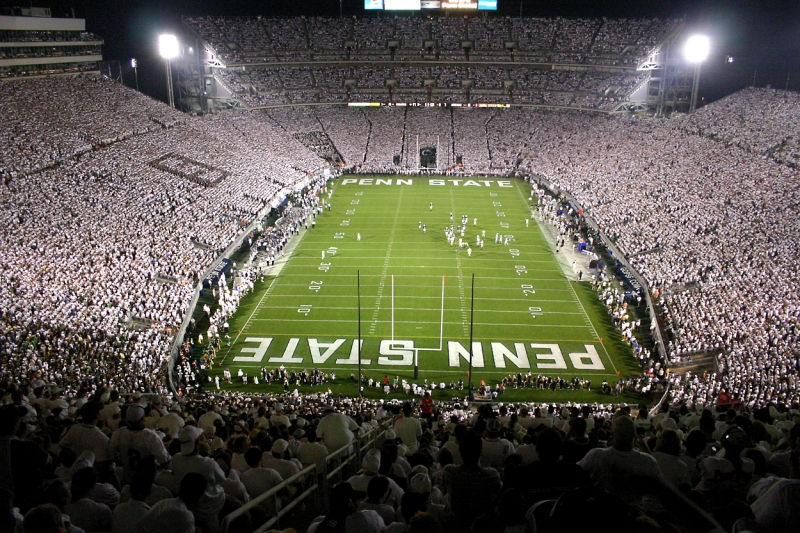 Saturday, November 7, 2009

Beaver Stadium, State College, PA

Ohio State (7-2, 4-1) at Penn State (8-1, 4-1)

3:30 p.m. (ET)

TV: ABC
Two of the best defenses in the country will be on display Saturday in Happy Valley when the Buckeyes meet the 11th-ranked Nittany Lions of Penn State with a possible trip to Pasadena on the line. Even the two celebrity coaches on the sidelines might have to take a back seat to that show.
It's a game featuring the two preseason conference favorites, and despite the presence of Iowa in the race, this match-up continues to hold all the import it was expected to have when the season began. Welcome to November football in the Big Ten.
Of course both teams also have
high profile QB's
that jumped the Ohio-PA state line to play college football, and they'll be meeting for the second straight year on national TV. Saturday's winner will break a 12-12 tie in the all-time series between the two schools, while the loser can pretty much kiss off the Big Ten championship. So there's a lot more going on here than pageantry, pride and Paterno.
There's every reason to think this game could resemble last year's edition, when the Buckeyes slugged their way to a 6-3 lead in the 4th quarter before dropping a
13-6 decision
. In those tight, defensive battles the quarterback making the fewest mistakes usually comes away with the win. It's a lesson Terrelle Pryor learned that the hard way last year, and he'll be in another high-stakes matchup with Penn State senior
Daryll Clark,
trying to get Ohio State one week closer to the roses by
settling a score
with the Lions.
Unproven After Nine Games?
Because neither the Buckeyes nor the Nittany Lions has achieved a quality win over a quality opponent so far in 2009, (OSU's 31-13 win over a 5-0 Wisconsin team probably comes closest) this is also a game that will go a long way toward defining the season for both teams, for better or for worse. The Buckeyes
fell to USC
in their only game against a top ten opponent, and
Iowa dumped the Lions
on their home field in Penn State's first real test of the year, after they beat up on
a pathetic group
of non-conference opponents.
Penn State has righted the ship since the Iowa conference opener with four consecutive Big Ten wins, including the last three over what might be called the middle of the conference pack (Minnesota, Michigan, Northwestern), but it's still fair to say we don't know for sure how good these Lions are.
The question marks remain for the 2009 Buckeyes as well. As good as the defense has been in recording three shutouts and playing consistently well, the offense has been dogged by mistakes and inconsistent play at nearly every position on that side of the ball. They've managed to lead the conference in scoring offense (30.0 ppg) while looking anything but artistic getting there. The OSU offensive struggle had its perfect storm moment in an ugly loss at Purdue three weeks ago, and big wins since over Minnesota and New Mexico State haven't silenced all the doubters of the Buckeye offensive system.
Lions Offense Balanced and Efficient
There are numerous other parallels between the 2009 editions of these two teams (young wide receiver units....offensive line problems....graduation losses in the defensive secondary), but one area where Penn State appears to have an edge on the Buckeyes is at running back. Evan Royster is averaging 95.4 yards per game, good for 2nd in the conference rankings. That's about double the per game average for the highest ranked OSU running back, Brandon Saine (48.8 ypg). Pryor is the 7th-ranked rusher at 61.6 yards per game.
Royster (859 yds, 5 TD) has emerged as arguably the Big Ten's best running back in 2009, with Wisconsin's John Clay as the only real competition. At 5.9 yards per carry, Royster is well above Clay's 4.7 yard average and those of the other top five backs in the league. He catches the ball well too, and the Lions will use him on screens and run slants to him out of the slot. Royster has 11 catches for 148 receiving yards, with one touchdown grab.
The Lions struggled in their rushing game against their early season cupcake opponents, but their O-line play has improved as conference play progressed, and right now they are probably as balanced on offense as they have been all year. Backup tailback Stephfon Green is a breakaway threat, but he has missed the last two games with an injury, so the call has gone to sophomore Brandon Beachum to fill in for Royster, and he has rushed for 106 yards on 21 carries.
The other straw stirring the Nittany Lions' drink is quarterback Daryll Clark. The 6' 2", 232 lb senior isn't having the gaudy statistical year he put up in 2008 to win 1st Team All-Big Ten honors, but a lot of that is attributable to breaking in new offensive linemen and a whole new set of wide receivers. After nine games, Clark is the conference's 2nd-ranked passer at 239.8 yards per game, and is completing 63.1% of his passes, for 2158 total yards, with 18 touchdowns and seven interceptions. He is just enough of a running threat to keep defenses concerned about him scrambling from the pocket. Thus far in 2009, Clark has rushed for 148 yards on 48 carries, for just a 3.1 yard average, but he has five rushing TD's, so he's a major concern down near the goal line.
At receiver the Nittany Lions are young and fairly inexperienced. Derek Moye, Chaz Powell and Graham Zug may not be as talented athletically as the unit they replaced (Deon Butler, Derrick Williams, and Jordan Norwood) but they are smart and disciplined, and Clark has been effective at getting them all involved. Moye is the biggest of the three at 6' 5", 198 lbs., and he has the biggest production so far this season with 39 catches for 648 yards and five touchdowns.
Zug has 29 receptions so far, for 344 yards and five TD's, and Powell has caught 25 balls for 352 yards and three scores. Andrew Quarless at tight end has a significant role in the offense as well, chipping in with 25 receptions for 352 yards and three TD's.
The offensive line returns left tackle Dennis Landolt and center Stephen Wisniewski, and first-year starters at the guards, Lou Eliades and Johnnie Troutman, and right tackle Ako Poti round out a unit that seems to be peaking at the right time.
Defense Getting it Done
The Penn State defense has some impressive statistics for 2009, and while the caliber of the opposition surely has something to do with the numbers, there's no denying that this is a quality defensive unit. The Nittany Lions are leading the nation in scoring defense, giving up just 9.3 points per game, and they top the conference in most of the team defense categories: pass defense (170.7 ypg), rush defense (84.1 ypg), total defense (254.8 ypg), sacks (3.6/game), red zone defense (57.1%), 3rd down conversion defense (31.3%) and 4th down conversion defense (28.6%).
In the middle of the defensive front for the Nittany Lions is defensive tackle Jared Odrick, a 6'5", 296 lb All-Big Ten performer who will be playing on Sundays a year from now. Odrick has 10 tackles for loss and six sacks to lead the Penn State defense in both categories. The Lions have two other standout tackles in Devon Still and Ollie Ogbu, and both have made the most of the opponents' justifiable focus on Odrick.
At the ends, sophomore Eric Latimore is getting most of the snaps on one side and Jack Crawford (6' 6", 256) a tall, lanky former basketball player has emerged as a solid starter on the other side. The Lions miss Aaron Maybin, but they are talented and improving.
As always the Nittany Lions have stellar linebacking talent. Sean Lee was expected to be the key addition this year after sitting out 2008 with a knee injury, but he has missed several games with injuries and is just now getting back into top form. Lee has 49 tackles and two sacks on the season.
Senior Josh Hull has led the Lions so far this year with 82 tackles from his inside LB position, and the former walk-on has solidified the rush defense with reliable tackling and consistent play. Navorro Bowman was the other big name PSU linebacker returning this year, and after missing some game time himself with injuries, has come back to register 53 tackles, with nine tackles for loss.
The Lions will start three sophomores in the defensive backfield, including Drew Astorino and Nick Sukay at the safety spots. Senior A.J. Wallace will probably get the nod at one cornerback position, with D'Anton Lynn the starter on the other side. This unit was projected to be a potential problem for Penn State this season, but so far...the kids are alright. The Lions lead the conference in pass defense, and have only given up three passing TD's all year, so something's working right.
What OSU Must Do To Win

It's not exactly like splitting the atom to figure out that Terrelle Pryor and the OSU offense have to play pretty close to error-free offense in order to win this ball game (though it obviously doesn't quite go without saying.) Pryor will have to prove he can complete passes in the short and intermediate range, and move the chains in the passing game, because Penn State will surely stack the box to stop the run (just as they did so effectively last year) and dare the Bucks to throw the ball.
Penn State prefers to play their 3-deep zone "umbrella" pass defense, so Pryor will be challenged to make quick reads, proper decisions and accurate throws in order to open things up for the OSU offense. Those particular skills haven't exactly been his strong suit in his young Buckeye career, so the game will be a good test of his development in that regard.
And sooner or later, the Buckeyes will have to have some success running the football. The read-option with Pryor keeping the ball, and running it with decisiveness and a north-south orientation could end up being the key to springing some big plays, and opening up some other possibilities for offensive success.
The Buckeyes haven't been able to establish one running back as the go-to guy all season, although Brandon Saine and Dan Herron have both looked good on occasion, and Jordan Hall has been a pleasant surprise as a true freshman. If one of those guys can get rolling early in the game, it would make sense to stick with him to try to get some continuity.
One assumes the OSU defense will show up and play up to their own high standards. On this day they'll probably have to hold the home team under 21 points to get a Buckeye victory. Last year they knocked Clark out of the game in the 4th quarter, and this game calls for dialing up that same formula: whatever they get off of you...make it hurt.
Why it Might Not Happen
It's the first time all year that OSU faces a team with a defense arguably as good as the Silver Bullets. If the defenses are equal, and cancel each other out, the Bucks could be in trouble.
Terrelle Pryor may still be the best athlete on the field, but the Nittany Lions have the more balanced and more inventive offense. Evan Royster will be the best running back on the field, and the Penn State coaches make the most of his ability, using him in the passing game and mixing up the calls in the running attack. Daryll Clark is the more likely of the two quarterbacks in the game to minimize his mistakes.
The Lions have more viable options in the passing game. There are three legitimate receivers, the tight end, and a running back to worry about in pass patterns....plus the run threat from Clark. To say the opponent will probably be more imaginative than the Buckeyes on offense is akin to predicting the sun will rise in the east. I beg to be proven wrong.
(No, not about the sun)
More is made of statistics than perhaps is warranted, but there are a few stats in the Penn State column that concern me. In a close conference game with good defensive play on both sides, possession of the ball matters, and winning teams don't waste possessions. So it is not insignificant that Penn State leads the Big Ten in 3rd down conversion percentage at 51.6% (OSU Is 5th at 41.6%), and also in 3rd down defense, allowing opponents just a 31.3% conversion rate (OSU is 2nd at 32.3%).
---
So I have kind of backed myself into a corner with this evaluation, it appears. Having said it will take an error-free game by OSU in order for the Buckeyes to prevail, I must ask myself if I think that will indeed happen. And that answer is no.
The combination of home field and a more balanced offense, led by veteran performers Royster and Clark, should prove to be enough to get the Nittany Lions over the top. If the Buckeyes can score a touchdown on defense or special teams, it might be enough to swing the outcome the other way. And if Pryor can avoid turnovers and make a big play or two, the OSU defense could make 20 OSU points hold up for a win.
But my best guess is a 23-17 Penn State victory.
Links:
OSU - Game Notes
2009 OSU Roster
2009 Penn State Roster