Cleveland State starts the second half of its Horizon League schedule Saturday afternoon at 4 p.m. against Youngstown State in a nationally televised ...
Cleveland State's men's basketball team starts off the second half of the Horizon League season Saturday hosting intrastate rival Youngstown State (7- ...

A 3-pointer by Norris Cole with seven seconds left and a block by Tim Kamczyc with one second left, helped Cleveland State hold on to a, 73-72, victor ...
Cleveland State begins a critical three-game home stand tonight against second place Green Bay. After winning three straight conference games to pull ...

So far, Cleveland State's men's basketball team has enjoyed the New Year. After finishing 2009, losing nine straight Division I games, the Vikings (7- ...
The Cleveland State men's basketball team remained undefeated in 2010, holding off Illinois-Chicago's late rally for a, 70-63, victory, Saturday night ...

Cleveland State head coach Gary Waters new four-guard starting lineup should be tested this week with two home games against Loyola-Chicago (11-3, 2-2 ...
Cleveland State returns to the Wolstein Center this week for the first time since a heart-breaking two point loss to West Virginia. The Vikings bounce ...
Cleveland State nearly pulled off the major upset of No. 6 West Virginia on Saturday, losing to the Mountaineers, 80-78, on Da'Sean Butler's lay-up wi ...
When CSU hosts No. 6 West Virginia Saturday (2 p.m., ESPN360.com) in the third annual John McLendon Scholarship Classic, it will be the highest ranked ...
A Look At Your 2009-2010 Vikings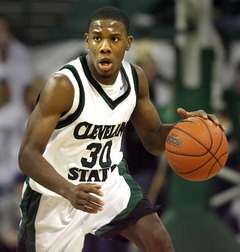 With Cleveland State graduating five seniors and only returning four players (no seniors) with game experience from last season's Horizon League Championship team, the Vikings will be a much different team this year.
The Vikings should experience some growing pains early in the season, as the team learns head coach Gary Waters demanding defensive system, but come "January and February this team will be a hard team to handle," said Waters.
This year's team has more depth, size, athleticism, and is a much better shooting team then last season. Because of the increase in depth, Waters' plans on using a full-court press for 40-minutes.
With the season starting tonight (at St. Bonaventure, 7 p.m.), here's a preview of CSU's 2009-10 roster:
Returning players:
Norris Cole (6-2, 175, G, Jr.):
Cole is CSU's leading returning scorer from a year ago at 13.3 points per game. The Dayton native will be counted on to be CSU's go-to scorer this season, something he has never done before either at the college level or in high school. Cole is also CSU's best perimeter defender.
Waters comment: "If you ask me is Norris Cole a No.1 guy? I don't know, because he has never been that. With the No. 1 guy, different responsibilities are passed upon him and teams look at him differently. Last year, they didn't know he existed at times because you had to really concentrate on Cedric (Jackson) and J'Nathan (Bullock). Now he's going to be the concentration.
"Now if you ask me if he has the ability to withstand that? Yes, I think he has. He has the mental attitude and a quality individual. He has the leadership capability, the athleticism, and the basketball mindset to do it. You only know that when you put him in that position."
D'Aundray Brown (6-4, 185, WF, Jr.):
Brown is CSU's version of Dennis Rodman, a high-energy guy who always seems to come up with the loose balls. The Youngstown native averaged 7.4 points and 5.7 rebounds in 24 games last season. He missed 13 games last season due to injuries (eight games with stress fracture, five games with MCL sprain). Brown is expected to have an increase roll offensively to take some of the pressure off of Cole.
Waters comment: "D'Aundray Brown is the most consistent player we have at everything we do. He will be a key for us because Norris can't do everything. He's our energy guy and will bring that energy to the floor."
Trey Harmon (6-1, 185, G, So.):
Harmon, a high-scoring guard from Pasadena, California, received the John Wooden Award as the top player in CIF Southern Section Division II, as a senior. Last season, Harmon averaged 5.2 points per game and was one of CSU's top reserves. Harmon, who had to sit-out the first half of last season, spent most of last season concentrating on his defense and has become one of CSU's best defenders. He started seven games a year ago, and is expected to take on a greater role offensively in his first-full season.
Waters comment: "I think you will see a more productive Trey because he's very confident shooting the ball. He's twice the shooter he was last year. I thought he did a great job for us defensively last year.
Jeremy Montgomery (6-2, 190, PG, So.):
Montgomery averaged 4.1 points and 0.9 assists in 13.9 minutes per game last season as a key reserve. The Chicago native had an up-and-down season last year, struggling to adjust to Waters demanding defensive system. Montgomery, started at point guard during the exhibition game with John Carroll, but Waters says there is no guaranteed he will start against St. Bonaventure.
Waters comment: "Jeremy has the ability to score, but has got to play some defense."
Josh McCoy (6-4, 180, G, So.):
McCoy averaged 0.9 points playing in 24 games. The St. Peters, Mo. native has the ability to play both the off-guard and small forward position. He has also struggled to adjust to Waters defensive system as a true freshmen.
Waters comment: "Josh had his best spring and summer ever. He picked up his game and worked hard in the spring. He can shot the ball, but he has to understand if he wants to be out on the floor he has to play defense."
Joe Latas (6-11, 270, C, RSo.):
Latas played in 16 games as a red-shirt freshmen last season, averaging 1.4 points in 3.9 minutes per game. The North Olmsted native could see an increase in playing time with the press Waters wants to install.
Waters comment: "Joe has really improved from a year ago. I'm going to try to get him out there. He has the ability to score. He's adjusting to the style we want to play. He's a great floor leader."
New players:
Aaron Pogue (6-9, 275, C, RSo.):
Pogue is penciled in as CSU's starting center. Pogue, who was a top 50 recruit out of Dayton Dunbar high school, sat out last season as a red-shirt. He gives the Vikings a low-post scoring threat that is much needed with the departure of J'Nathan Bullock. Pogue has experienced some light-headedness this season that has limited him in practice and games. He played on the same AAU team (D-1 Greyhounds) with NBA players, Greg Oden and Daequan Cook. And played with Cole and Cook at Dayton Dunbar.
Waters comment: "Aaron has abilities that are unlimited. Aaron just has to bring them forward. I haven't had a big kid with the feet that he has. Aaron is probably the best skilled big man I ever had. He can do a lot of things that most big men can't do."
Jared Cunningham (6-9, 235, PF, Jr.):
Cunningham spent two seasons at Arkansas-Fort Smith, averaging 10.7 points and 5.3 rebounds. The Oregon City, Oregon, native gives the Vikings some versatility in the front court as he has the ability to score from both the inside and from the perimeter (38.7 percent from 3-point distance).
Waters comment: "Jared will be a player for us. I like his energy level. He can really shoot the basketball. When he's open he can hit the open shot. He's going to hit the outside shot and he will work hard."
Nigel Ajere (6-6, 225, F, So.):
Ajere sat out last season as a non-qualifier. He played for former Viking Amadou "Pape" Koundoul at Summit Prep, averaging 30.1 points and 10.6 rebounds per game in his only season. Ajere, who can play the 3 or 4, is a scoring machine, but needs to improve his defense. He scored 23 points against Akron (scrimmage) and 15 against John Carroll (exhibition). He played with Harmon at Pasadena High.
Waters comment: "Nigel is our best athlete and he can score the basketball, but there is more then just scoring the basketball, and that's what he's in the process of learning right now. Nigel is a hard guy to handle inside. As far as scoring, that is his natural ability. He did it in high school, he did it prep school.
"I was hoping to convert him to a 3 like I did with J'Nathan. In order to convert him he has to mentally adjust. He's got the feet to be a 3."
Lance James (5-11, 190, PG, Jr.):
James, who transferred from Aiken Tech, was selected to the third team NJCAA All-American last season, after averaging 23.4 points, 6.1 assists and 6.1 rebounds per game. James was brought in to replace Cedric Jackson at point guard, but has struggled making the adjustment to division I.
Waters comment: He's still in the developmental process in our system. He's still learning and still trying to feel where he can contribute the most for us.
"We got to get him to the point were he can take over the point guard position for us because he gives us maturity. If he can do that really will help us."
Tim Kamczyc (6-7, 200, F, Rfr.):
Kamczyc, who walked onto the team last season, was red-shirted as a freshmen. He can play the 3 or 4. The Strongsville native has impressed the coaches enough to earn a scholarship.
Waters comment: "Tim plays hard and does what I tell him to do. I think he will really help us this year. What allows Tim to be a person in the mix, because he practiced last year and understands.
Kevin Anderson (6-10, 215, C, So.):
Anderson, who is a transfer from Technical Career Institute, red-shirted as a freshmen, and will have three years of eligibility left at CSU. Anderson is a bit of a project, but he specializes in blocking shots.
Waters comment: "Kevin in my estimation has the potential to become the best shot blocker I have coach. In one game (at Technical Career Institute) he had 10 blocks. He has the ability to get up-and-down the floor.
"I have to help him with the awareness and the physicality he's going to face each and every day.
Anthony Wells (6-1, 170, G, Fr.):
Wells, who is the only true freshmen on the team, averaged 22.1 points per game last season as a senior at Shaker Heights High. Wells brings depth to the guard position having the ability to play both guard positions. With so much depth at the guard position this season, Wells could be a candidate to be red-shirted.
Waters comment: "He's one of our guys. He defends like we need him to defend. He's young, got to learn things. He can shoot the ball, pass the ball and defend the ball.
"When we started to recruit him he was 5-11, now he's 6-2. His father is 6-5, if Anthony ends up 6-3 or 6-4 he will be an unbelievable player. I think he can be a great steal."
Charlie Woods (6-7, 200, F, Rfr.):
Woods was red-shirted last season after suffering a sinus fracture in his face that required surgery, during the first week of practice.
Waters comment: He's still trying to find himself. He's still trying to deal with the trauma that happened to him. He's still trying to catch up."