Nick Allburn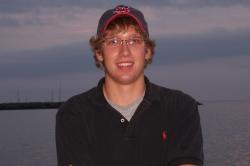 Writing Topic(s):
Email Nick Allburn
Nick Allburn is a 21-year old guy who resides in Erie, PA. Shortly after he started walking he developed a passion for Cleveland sports, and one of his earliest memories is the purchase of his first Cleveland Indians hat (the old, giant Wahoo).
Nick has spent all of his years on the southern shore of Lake Erie save one: his freshman year of college, when he attended the University of Pittsburgh. When the Steelers won the Super Bowl Nick knew it was time to go, and he returned to his native Erie where he was no longer persecuted for his beliefs.
Nick is currently in the fourth year of a six-year MBA program at Penn State Erie, and his primary foci for TheClevelandFan are the Browns and Cavaliers. In his free time, he enjoys reading, Lake Erie, making fun of Steelers fans, cycling, and running, and has become a wannabe triathlete. In the summertime, he works as an intern for Kramerica Industries. Nick probably owns more Bernie Kosar jerseys than you do.
In addition to writing for TCF, Nick collaborates on a Cleveland sports blog located at: http://forestcityfanatics.blogspot.com.
Article Archives: