That was an impressive week of basketball from the Cleveland Cavaliers. Wins at home over Toronto, the Lakers and Oklahoma City, all playoff-caliber t ...
We've nearly reached the Gobi Desert in terms of Cleveland sports. No more Browns games for months, the Tribe is still weeks away from meaningless spr ...

"It was the best of times; it was the worst of times." Charles Dickens wasn't writing about the Browns when he set that phrase to paper but he may as ...
With the best journeys, it's not the destination that matters, but the fun you had getting there. ...Still, there's nothing wrong with knowing you're ...

The final year of the first decade of the 21st Century was, once again, devoid of world championships for Cleveland's teams. But even without trophies ...
Will LeBron James resign in Cleveland? Can Mike Brown coach a team to a NBA Championship? What will the Indians starting rotation look like? What k ...

What's going on with these Browns? This is not how we do things in Cleveland. Our teams do not get better as the season progresses. No one "improve ...
After spending three months sifting through 45 years of silver linings, four men have been chosen to represent the very best of Cleveland sports in a ...
It's been a rough 2009 for Cleveland sports. But what a finish to the year for this beaten down fan base. The Browns and Cavaliers put a heckuva bow ...
The final year of the first decade of the 21st Century was, once again, devoid of world championships for Cleveland's teams. The Cavaliers mounted a s ...
Lead Pipe Locks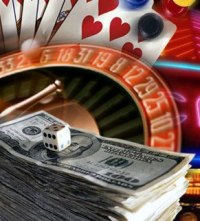 When gambling news spreads across the 440, generally it is word of the Lead Man torching the man with another one of his epic hot streaks. And because news of another Lead Man heater has become so commonplace in recent years people tend to give it the same attention as a car alarm going off in a parking garage. But this past election week gambling news involving the passage of legalized casino gambling in the state has gotten the attention of many Ohioans. With gambling on their minds, questions among the masses are sure to arise, and when this happens, the wisest of them call on the Lead Man and seek his opinions of the goings-on. They wonder how LP plans to tackle both the new casinos and the many issues surrounding them. They wonder, in other words, WWLMD (bracelets currently in production)?
Well players, LP hates to temper the excitement that is being generated in the gambling community after Tuesday's victorious vote, but speaking from an advantage player's standpoint, there won't be much to like inside the new casino's doors.
Ohio, like many states that have trouble getting gambling issues past in their states, had to prove to the public, especially those that don't gamble, that the gambling enterprises are going to be financially beneficial for the state's citizens - not just the casino operators, who are universally viewed as a greedy sort. One of the chief ways to accomplish this, and one strategy Ohio employed, was to trumpet a high tax rate to be levied on the casinos. While this has proven again to be an effective strategy to get casinos in state, the aftermath leaves players in a pretty unenviable position if they want to have any hope of making a profit themselves, or, even to find a fair game on which to wager. Why is this the case? Well players, where do you think casino operators are going to make up much of the money they are forced to place in the state's drop box? By horrible 6-5 payouts on black jack naturals, awful pass line odds on craps, huge rakes in the poker room and, affecting the greatest number of casino players, state minimums across the board in slot machine payouts. This all adds up to the casino's laying down more beatings than Raider Coach Tom Cable out on a date.
Understand, Lead Man is not trying to temper your excitement, nor is he going to cry, "Too little too late." He's not going to get into the political aspects, for this column doesn't afford him the space to get into those details. What the Lead Man is going to do is recommend that local players use the new casinos simply as a recreational night out every so often. If you become a regular, you will become a loser. There aren't going to be any games you can beat, especially if LP's at your poker table.
Now, time to turn our attention to an exercise in which the odds are truly stacked in your favor - shadowing LP's football wagers. To the picks;
The Wolfpack of NC State welcomes the Maryland Terrapins to Carter-Finley Stadium for a Saturday afternoon tilt. Maryland is a mess right now, especially on the defensive side of the ball. The Lead Man sees an NC State offense that can be productive against defenses that are not top tier. Maryland is a horrible road team straight up, and they also cannot beat the number on the road. To make matters worse for Maryland, they look to be running into NC State at the wrong time, which sounds a little whack considering the Wolfpack have dropped 4 straight. However, QB Russell Wilson seems to be finally getting his act together. He lit up Florida State in week 9, firing 5 touchdowns as the Pack hung 45 on napping Bobby Bowden's troops. Get this one under a touchdown.
Maryland -6.5
Donald W. Reynolds Razorback Stadium in Arkansas might be mistaken for the Chippendale dressing room, as they'll be no shortage of Cocks and Hogs on display in this Saturday afternoon match-up. The ole' ball coach has thrown his share of visors in recent South Carolina/Arkansas games, and this week looks to be no different, as Arkansas is starting to roll on offense and South Carolina has lacked any shred of consistency all year. This game for the Gamecocks is sandwiched between an embarrassing loss to Tennessee in week 9, and a match-up with the #1 team in the nation next week. Meanwhile this game nestles in quite nicely for the 'Backs, coming off a win last week against Eastern Michigan in which they put up 63, and a game next week against Troy. Michigan transfer Ryan Mallet is throwing the hammer down as he starts to get more and more comfortable with the offense. Only way SC keeps it close is to win the turnover battle, and they haven't proven to the Lead Man they can do that. Take the Razorbacks, collect the greenbacks.
Arkansas -5.5
Well players, once again, Lead Man's 2009 whipping boys are getting too much credit from the man. LP has been making his living this year wagering against the Tulane Green Wave. So do your best Woody Allen impersonation this week and get behind a miner; a UTEP Miner that is. Tulane is surrendering nearly 40 points a game, and show no signs of being able to slow UTEP QB Trevor Vittatoe from moving the ball up the field. Whether it's by the El Passo, or the El Runno, rest assured that ball in going to move. Tulane on offense? Averaging 13 points a game, and have no semblance of a running game. UTEP is no great shakes on D, but as has been the case, a one dimensional Green Wave offense makes it easy on marginal defenses. Getting this game at a touchdown is a steal. A better line would be twice that. Let's keep riding the wave to the window.
UTEP -7.
In the pro game, Carolina travels to the Dirty Dirty to tussle with the Saints. The total in this game is 52, and the Leadquarters understands that 80% of the last 30 games that have had a total of over 50 have gone under. This looks to be no different as Carolina comes in a bit overvalued having scored 35 last week. However, two of those TD's did not come from the offense. Also, given their druthers, the Panthers like to run the football, and keep that clock moving. So play 52 pick-up on Sunday, wager under 52, and pick up your cash at the window.

Saints/Panthers UNDER 52
Good luck players!!!

YTD RECORD 18-14 (56.3%)