On Thursday Jesse took a look back at what coulda been with the 1976 "Miracle of Richfield" Cavaliers. And today, in the newest installment of the "W ...
Much as this Sunday will likely serve as yet another validation of Eric Mangini's nation-building prowess - as his former team is just one step away f ...

Along about the time that the Cleveland Browns were at their nadir this past season, many openly speculated whether anything or anyone could fix the m ...
In a sign of overall franchise progress, at least compared to the previous three regimes of Cleveland football management, the 2009 Browns under Eric ...

The Cleveland Browns 2009 season was one for the ages. It could be summed up in as little as one word "oy" or 100 million. Gary Benz has opted for s ...
The first two installments of Gary Benz's excellent retrospective on the 2009 season of the Cleveland Browns dealt with all the drama that unfolded be ...

The Cleveland Browns 2009 season was one for the ages. It could be summed up in as little as one word "oy" or 100 million. Gary Benz has opted for s ...
Mike Holmgren's decision to retain Eric Mangini seems to have surprised just about everyone in the Cleveland Browns fraternity to some degree. Nick A ...
Back in the days when European monarchies wielded legitimate power, arranged marriages were among the most common means of strengthening a country's s ...
So far, Cleveland State's men's basketball team has enjoyed the New Year. After finishing 2009, losing nine straight Division I games, the Vikings (7- ...
Common Sense: Browns Edition
As Eric Mangini is surely relieved to be celebrating his one-year anniversary as coach of the Browns, it's apparant that the dawning of a new era is about to begin in Berea - one that signals a new approach comprised of an odd feeling of something quite like pragmatism.
How about that for a change?
In years past, the Browns franchise has fluttered between the leadership likes of the too-powerful and clinically inept, sharing only the common trait of massive reconstruction among them. Much like Butch Davis both built and destroyed on a whim in Berea, Phil Savage followed like an unhinged wrecking ball, until Mangini assumed his place in line at the ruins of what was once a great franchise.
So naturally when Mike Holmgren assumed total control of the franchise, most of Browns Nation assumed that yet another massive rebuilding effort was about to be performed. Already the local talk had focused on a brand new system of offense and defense being installed, and the members of a 2009 team that finished on a four-game win streak had already been forgotten.
As for Mangini, the still young coach who painfully executed his
"process"
in 2009, his eventual Cleveland fate was almost an afterthought. Considering the authority craved by and given to an NFL veteran like Holmgren, it would almost seem a dereliction of duties if a change were not made among the Cleveland sidelines.
However, it's funny what can happen when some common sense is applied to a decision.
For Holmgren, the decision to retain Mangini essentially revealed itself to be almost infallable in its logic. Ignoring the team's past history of change for change's sake, Holmgren instead focused on the delicate sense of continuity and progress made by Mangini in 2009. For Holmgren, this decision was made with the future in mind, both in the immediate and long-term sense.
Let's take a look: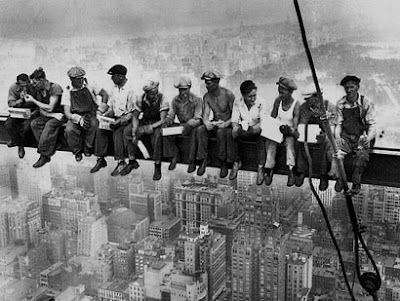 Reboot 4.1
Holmgren is starting to make a lot of sense to me. I think in making the decision to bring back Mangini and his assistants, Holmgren has cut his "new job" workload virtually in half. Now, instead of having to interview at least 3-4 coaching candidates - in what is a very tight head coach job market - Holmgren can now focus on settling his front office and preparing for the upcoming draft and free agency.
In terms of the much-discussed "culture" of the team that Mangini has been credited with re-shaping in 2009, Holmgren again lightens his workload. Because Holmgren does not have to decide offseason workout regimens, OTA schedules or rearrange conference room paintings, again his schedule is cleared for more important assignments.
As it relates to the field, were even the most sinister of Mangini-haters really ready to embrace yet another team reboot? If Holmgren were to bring in a brand new coach and staff, the growing pains of the 2009 season would have ultimately proved meaningless and of course, yet another offseason of personnel turnover would have followed.
And although Holmgren has entered the backend of the team's recent history, eventually all of this reconstruction has to show something. Right?
Best of the Best

Most reports centering around Holmgren's thought process over the past few days stated that the new czar was looking to bring in a defensive-minded coach. Following this logic, and based on the Bob LaMonte-driven offseason sweepstakes, the only candidate that seemed to fit the bill would be Minnesota's Leslie Frazier.
And while Frazier looks to one day become a solid NFL head coach, I assume that Holmgren made his ultimate decision by weighing the merits of the two candidates. Or, in other words - in a somewhat weak potential coaching pool, was there anyone out there more suited for the job than Mangini?
Hiring a rookie coach would basically again signal that the franchise needs to take a step back before eventually going forward. And again in a nod to common sense, Holmgren's decision took into account this idea, as well as the more obvious notion that Mangini is actually a good football coach.
Layers
"Layers" seems to be the buzz word of the month in Berea, as both Holmgren and Mangini have used it to refer to the team's new front office structure. And of course, it's fitting that somewhere across the Atlantic, Randy Lerner thinks of packing an extra sweater. Anyway, it's worth noting that much like earlier mentions of lightenting his workload, Holmgren probably realized that he could allow Mangini to do his own thing, within the confines of a newly structured system.
As the "executive producer" of this franchise, Holmgren can surely create a unique sense of checks and balances by hiring a competent GM to wedge between himself and Mangini. And by having such a common sense approach to functional team management, Holmgren can virtually slow - or even eventually eliminate - all the distractions - both real and fictional - that have hampered this franchise in recent years.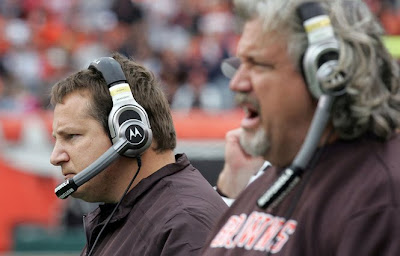 Stocking Up
Lost in the pre-December abyss of of 2009 have been the stellar coaching efforts given by some of Mangini's assistants, including Brad Seely, Rob Ryan, George Warhop and Bryan Cox. Or, in other words - much like Mangini's ability to find players among the NFL scrap heaps, our once and current head coach has a great eye for surrounding himself with quality talent.
The jobs that Ryan and Seely performed in 2009 were nothing short of remarkable. Seely's special teams units were among the league's best and Ryan's late-season work displayed a unique brand of flexible, aggressive defense - a variety that can be somewhat malleable in the future.
Perhaps the most appealing facet of the team's December run - excluding the running game revival - was the defense's solid improvement against the run and in creating pressure. Coaching with a roster littered with veteran castoffs and raw talent, Ryan turned the Browns' defense into a viable unit, one that shows some great promise for 2010.
And if the coaching staff is truly charged with a mandate to become willing to change in 2010, Ryan's defense is already ahead of the game. Although most reports of the team changing its overall identity are a bit sensational in nature, it wouldn't be much of a stretch to see this team play a more flexible, even "layered" form of defense in 2010 - especially considering that they've already done it in 2009.



Keeping His Options Open
And for the most hardened of Mangini detractors among Browns Nation and within the ranks of both local and national media, Holmgren's decision to not make any wholesale changes seems to reflect a more sinister motive for the future. Simply put, Holmgren is indeed keeping his options open.
Consider that despite Mangini's current job security, he will likely enter 2010 firmly planted on the hot seat. With other attractive coaching candidates on the horizon, including Carolina's John Fox and ESPN's Jon Gruden, it will only be a matter of time before Mangini is again a marked man. Nothing short of a 2010 playoff run will alleviate Mangini of such a status.
It's also worth noting that besides Holmgren's desire to continue Mangini's "process" into 2010, the new czar is simply giving himself more flexibility over the next year or two. Consider that if Holmgren dismissed Mangini and brought in a new coach, he would be virtually committed to 2-3 years of a new regime. And if Holmgren truly wants to eventually make a coaching change - or assume the position himself - 2010 will simply serve as a lengthy waiting period.
For Holmgren, the move to keep Mangini is a win-win situation. If Mangini continues to show progress, then obviously Holmgren's job gets that much easier. If not, Holmgren can enter the 2011 offseason ready to fully assert his contractual powers over the franchise.
And in the end, it's more than possible that Holmgren simply gets bored in his new role. For an ex-coach to assume exclusively off-field positions of authority for multiple seasons could be a recipe for restlessness. Much like an executive producer who wants to tinker with a camera angle or set design, it is more than possible that Holmgren will one day soon become the next in a long line of Browns head coaches.
But as it stands now, for the first time in years, if not decades, it appears that common sense has finally triumphed in Berea.
How about that for a change?