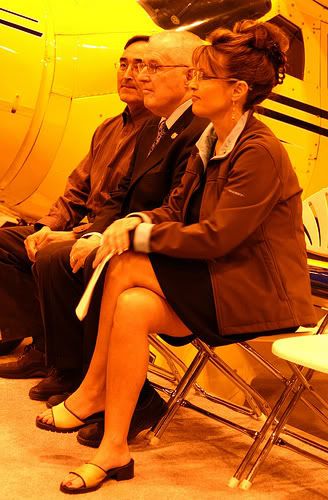 This helps McCain. Didn't think he'd have the balls to do it, but it's a stroke of genius.
Clearly, she will help bring over some of the Hillary supporters. Remind people that McCain is much more of a common sense centrist than the right wing Bush clone Obama is smartly painting him as. Gives some youth, vibrance, and excitement to the ticket ... which McCain needs. Dude looks about 110 years old and is a very choppy speaker. She's a rising star in the party, and one that represents little of the characteristics of the Bush/Cheney ticket so much of the country is disenfranchised with right now. Anti abortion, which will appease the far right. Fiscal conservative, strong on energy, which is a huge issue right now. Mother of five, approval ratings through the roof throughout her political career.
Thought Biden was an excellent choice by Obama. Think this is even a better choice by McCain.
Get Romney on board for economic policy, Petraeus as Secretary of Defense, and McCain (who I thought had no chance a month ago, shit three days ago) will have a very good chance to win the Presidency in October ... provided the situation in Iraq doesn't deteriorate.