Mauricio Shogun Rua v. Lyoto Machida, UFC lightweight champion.
This fight is going to be great. My two favorite light heavyweights, now that Wanderlei Silva is hovering between the Rich Franklin 195 lb. division and the middleweight division. Machida, the champion has not lost a round on a judge's scorecard since his entry into the UFC. Up until this fight, he has been literally untouchable. He has his way with fighters. He moves in, combos, and moves out without getting hit. He counters fast. His judo and sumo throws negate any wrestler's strength in the clinch. His top game and jiu-jitsu are world class.
But he has yet to fight a fighter as dynamic as Shogun. Shogun's MMA Muay Thai style is tough. He combines speed, power, and agility in his striking. His ground and pound was legendary in Pride, and his flashy jiu-jitsu far outweighs Machida's. Plus, he is my FAVORITE FUCKING FIGHTER in the world.
Machida has won many decisions. But he's never had to work hard through all the rounds, other than in the Penn fight, which I'll get to. His decisions have always been easy fights where he loses no stamina and endures no damage. That may speak to his ability, but it also means he hasn't been tested. If Shogun figures out Machida's elusive timing in the stand-up, this fight is his. His ground game is better than Machida's, and his striking, although sloppier than Machida's traditional karate, is just as dangerous.
If Shogun loses, it will be by KO in the first round. But he's not going to lose. He will win via submission in the fourth round, after Machida gasses for the first time in his career, against a fighter of comparable skill. The only fighter he has fought to date with a skill level equal to his own is B.J. Penn. For those who don't know, B.J. Penn fights in a weight class fifty pounds lighter than Machida. And he took him to a decision. Shogun is equal in size to Machida. This is going to be interesting.
Machida's never seen this before: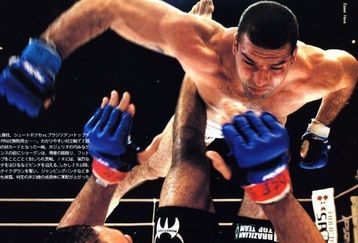 But when he does, it'll be followed up by a triangle, armbar or something sick like a gogo, and he's going out or tapping.