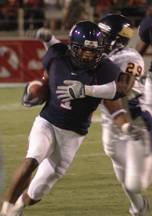 http://www.nfldraftcountdown.com/scouti ... eptoe.html
Strengths:
Good athlete...More quick than fast...Explosive with great change of direction...He runs good routes...Has solid hands...Elusive and tough to bring down in the open field...Top intangibles...A terrific return man who will contribute on special teams.
Weaknesses:
Undersized and does not have the height you look for...His timed speed is rather pedestrian...Is not very strong or physical...Was not overly productive...Has some durability concerns...Not a vertical or deep threat...Probably has a limited upside.
Notes:
Played under tough circumstances with a poor offense in college...Has experience as a kick and punt returner and that's where he will have to make his mark at the next level...Slot guy who at best could possibly develop into a Bobby Wade-type.